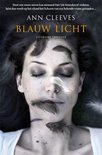 Blauw licht
Ann Cleeves


Op Fair Isle, een klein eiland voor de Schotse kust wonen niet zo veel mensen. Iedereen kent iedereen, en nieuwkomers zijn niet altijd welkom. Maar toch zijn ze op dit speciale eiland wel gewend aan vreemden: ieder jaar komen er vogelaars die op zoek zijn naar vogels om hun 'lijst' vol te maken. Een van hen is blijven hangen: Angela is getrouwd met een eilandbewoner, en omdat ze beroemd is vanwege haar televisieoptreden wordt ze geaccepteerd. Maar niet door iedereen, want iemand heeft haar een mes in de rug gestoken. Ze wordt gevonden op haar werkkamer, dood, met veren in haar haar.

Toevallig is Jimmy Perez thuis om zijn verloofde voor te stellen aan zijn ouders. En Perez is politie-inspecteur, hij is de aangewezen man om de moord op te lossen. Intussen kan niemand het eiland verlaten of bereiken want er heerst een flinke herfststorm.
De verdenking rust vooral op de al of niet tijdelijke bewoners van de vuurtoren, die zo perfect verzorgd worden door Jane, de kokkin. Er zijn enkele jonge vogelaars, een echtpaar dat tot rust wil komen, de dochter van Angela, en dus Jane. Maar dan vindt deze ook de dood. Ook met veren in haar haar. Het wordt er niet makkelijker op voor Jimmy.
En dan staan op het vasteland ook nieuwe vogelaars te trappelen, want er is een bijzondere vogel te zien in een van de meren op het eiland. En natuurlijk staan daar ook de hulptroepen. En, en dat is minder geslaagd: de pers. Want Angela was een bekend persoon. Zal Jimmy Perez hier een goede uitweg vinden?

Dit boek is een misdaadroman à la Rendell. Cleeves gaat niet al te diep, maar weet haar lezer wel te boeien met een spannend verhaal. Op het juiste moment, als het verhaal wat inzakt, volgt de volgende moord, en die vogels zorgen voor de nodige verwikkelingen.
Lekker leesvoer.

ISBN 9789022998731 | paperback | 256 pagina's | A.W. Bruna Uitgevers | augustus 2011
Vertaald uit het Engels door Erik de Vries
© Marjo 25 september 2011
Lees de reacties op het forum en/of reageer, klik HIER
---