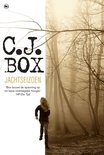 Jachtseizoen
C.J. Box
C.J. (Charles James) Box is auteur van onder andere de serie boeken rond Joe Pickett (12 delen) en 3 'stand alone' boeken, waarvan Jachtseizoen in 2012 in het Nederlands is uitgekomen. Daarnaast heeft hij enkele korte verhalen en essays op zijn conto staan. Hij heeft onder andere gewerkt als hulp op een ranch, gids tijdens vistochten, landmeter, journalist en uitgever en is, samen met zijn vrouw, mede-eigenaar van een internationaal toerisme marketing bureau. Hij woont en werkt in Wyoming.

In Jachtseizoen heeft Cody Hoyt het moeilijk. Hij is gescheiden, alcoholist en is politieman op een klein bureau. Omwille van zijn puberzoon Justin probeert hij het patroon van zijn afkomst (ook zijn vader, ooms en andere familieleden waren dronkaards en stonden bekend als 'white trash') te doorbreken en wil hij van zijn alcoholverslaving af. Hiervoor heeft hij sinds 2 maanden de hulp van zijn AA-mentor, Hank Winters. Met vallen en opstaan gaat het de goede kant op. Dan wordt Hank dood gevonden in zijn afgebrande berghut. Zelfmoord? Cody gelooft er niks van; Hank zou hem nooit in de steek hebben gelaten. Zijn gevoel geeft hem gelijk en via Hank's computer komt hij erachter dat de moordenaar vermoedelijk met een reisgezelschap een trip gaat maken naar het onherbergzaamste deel van Yellowstone National Park. Cody moet en zal hem achterna, want Justin blijkt één van de deelnemers van die trip te zijn.

Met Jachtseizoen sleept C.J. Box je mee de woeste wildernis van Yellowstone National Park in. Het moet een prachtig gebied zijn en Box gebruikt al zijn kennis om de grootsheid van de natuur met zijn lezers te delen. En daar slaagt hij goed in; je ziet de trek van de paarden door de wildernis, je ruikt het kampvuur op de pleisterplaatsen en je ziet de majestueuze pijnbomen hoog boven je uittorenen. Maar bovenal is het een superspannende thriller die je niet weg kunt leggen wanneer de ene na de andere moord wordt gepleegd. Het reisgezelschap dunt uit als in het verhaal van de 10 kleine negertjes van Agatha Christie. Weet Cody op tijd te komen om zijn zoon te redden?

Box verlegt de schijnwerper van de verdenking steeds weer naar iemand anders. Is de reisleider de kwade genius of is de teruggetrokken mede-reiziger de moordenaar? En wat is eigenlijk het doel van de moordenaar? Waarom wilde hij per sé mee met deze trektocht? Alles komt bij elkaar in een verbijsterend slotakkoord.
C.J. Box weet de karakters goed te typeren. Met een enkele aanduiding schetst hij de verschillende personages zodat ze levendig voor het lezersoog verschijnen, precies genoeg om ze hun specifieke plaats in het verhaal te geven. Met name Cody wordt zeer goed geportretteerd als man die maar om één persoon op aarde geeft: zijn zoon, en er alles voor over heeft om diens toekomst veilig te stellen. Zelfs als dat betekent dat hijzelf daarvoor alles moet opgeven.

Dit boek heb ik min of meer toevallig ontdekt in de bibliotheek, op zoek naar boeken voor de vakantiekoffer. Wat een voltreffer! C.J. Box is voor mij een naam om te onthouden. Voorzover ik heb kunnen nagaan zijn alleen zijn 'stand alone' boeken in het Nederlands vertaald (Het ultimatum, Veilige haven en Jachtseizoen). Dat wordt een extra ritje naar de bieb.....

ISBN 9789044332544 Paperback 464 pagina's | House Of Books B.V. | januari 2012
© Joanazinha, 16 juli 2012
Lees de reacties op het forum en/of reageer, klik HIER
---