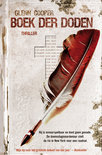 Boek der doden
Glenn Cooper


Ligt het al vast wanneer een mens zal sterven? Is het 'geschreven' zoals dat heet wanneer jij of ik de dood onder ogen moet zien? En wanneer de rest van de mensheid aan de beurt komt? Voor een aantal mensen lijkt het in ieder geval vast te liggen: zij sterven de dag nadat ze een briefkaart hebben ontvangen waarop een doodskist getekend staat.

FBI-inspecteur Will Piper, die dacht rustig naar zijn pensioen te kunnen toewerken, krijgt de zaak in zijn laatje geschoven. Hij heeft geen keuze en stort zich dan maar in het onderzoek. Maar hij tast in het duister: ondanks zijn speurwerk, geholpen door de jonge Nancy Lipinkski kan hij geen enkel verband ontdekken tussen de slachtoffers. Er is een seriemoordenaar bezig, maar eentje die zomaar willekeurig zijn slachtoffers kiest? Dat past niet in het psychologische plaatje.
De doemsdagmoordenaar, zoals de pers hem al gauw noemt, blijft onvindbaar. Het ziet er naar uit dat de laatste grote zaak die Will op zijn naam kan schrijven een mislukking gaat worden.
Dan meldt zich een toekomstig slachtoffer. Tenminste: een man heeft een briefkaart ontvangen. Hij leeft nog. Het is dé kans om de moordenaar te betrappen. Will en Nancy gaan hem bewaken. Zullen ze nu de moordenaar kunnen inrekenen?

Intussen, lekker spanningverhogend, zijn er nog twee andere verhaallijnen, die we tussendoor lezen. In het jaar 777 is iets gebeurd dat zeer waarschijnlijk verband zal houden met de moordzaak. Maar wat hebben die monniken daar op het eiland Vectis te maken met moorden die gepleegd worden anno nu? En waarom krijgen we ook nog te lezen hoe het met ene Mark Shackleton gaat? Hij was een van de klasgenoten van Will, die we in een van de eerste hoofdstukken al tegengekomen zijn: een computernerd, en als zodanig beschreven als een zielig type.

Glenn Cooper maakt van al zijn personages typetjes, zoals hij ook clichés niet schuwt. Maar ze werken natuurlijk in een thriller als deze. Al weet je heel snel dat er een romantische noot in het verhaal komt, en al is zelfs het gedrag van Mark voorspelbaar, er zijn vragen genoeg.
Het duurt toch even voor je door hebt wat de drie verhaallijnen met elkaar te maken hebben. Want al denk je halverwege de moordenaar te kennen, Cooper gaat je verrassen!
In dit boek heeft hij een ongelooflijk spannend, boeiend, intrigerend en fascinerend plot in elkaar gezet.
Gelukkig is het een verzinsell... of toch niet??

ISBN 9789022996096 | Paperback |334 pagina's | A.W. Bruna Uitgevers | oktober 2010
Vertaald door Riek Borgers

© Marjo, 17 januari 2011
Lees de reacties op het forum en/of reageer, klik HIER
---