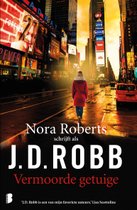 Vermoorde getuige
J.D. Robb

Tot haar verbazing geniet inspecteur Eve Dallas met volle teugen van het toneelstuk dat in het luxe theater van haar steenrijke echtgenoot Roarke wordt opgevoerd. Het is een toneelbewerking van het boek The Witness for the Prosecution van Agatha Christie en Eve gaat volledig in het verhaal op. Ze probeert zo veel mogelijk aanwijzingen op te pikken en de dader te ontmaskeren. Hoofdpersoon Leonard Vole wekt haar ergernis op. Wat een vreselijke man! Eve vergeet even dat het om een verzonnen verhaal gaat en kan haar ergernis niet onderdrukken. Roarke vermaakt zich opperbest.

Het loopt niet goed af voor Leonard Vole en ook niet voor Richard Draco, de acteur die hem speelt. Wanneer het hart van Vole met een rekwistiet doorboord wordt, verschijnt een flinke plas bloed onder het lichaam. Eve heeft onmiddellijk door dat het bloed niet bij het toneelspel hoort. Ze spoedt zich naar het podium waar ze meteen beseft dat het te laat is om nog iets voor Richard Draco te doen. Iemand heeft het nepmes door een echt mes vervangen, waarna Draco's tegenspeelster hem nietsvermoedend heeft vermoord. Wanneer de actrice die zijn hart doorboorde beseft dat ze zojuist iemand heeft gedood, valt ze flauw.

Richard Draco vertolkte de rol van een bijzonder onaangenaam persoon, een rol die hem op het lijf geschreven bleek te zijn. Draco was een vrouwenverslinder en liet overal waar hij ging een spoor van haat en verdriet achter. Normaalgesproken werkt Eve met een handjevol verdachten maar deze zaak is anders. Het lijkt wel of iedereen een grondige hekel aan Draco had! Al snel is er toch een bekentenis maar daar prikt Eve meteen doorheen. De moordenaar probeert een ander voor de brutale moord op te laten draaien.

Hoe vindt je een moordenaar als alle verdachten briljante acteurs zijn? Zijn de verontwaardiging, het verdriet en de afschuw die de gezichten van Draco's medespelers tekenen echt of geacteerd? Haat leidt niet voor iedereen tot moord. Wie heeft zijn of haar kans gegrepen zich voorgoed van Draco te ontdoen? Eve bijt zich stevig in de zaak vast. Het kost Roarke de grootste moeite haar af en toe van haar werkzaamheden los te weken. Hij is trots op haar vastberadenheid maar het bezorgt hem ook de nodige hoofdbrekers. Gaat de zaak ten koste van Eve's gezondheid?

Ik begin steeds meer te genieten van deze futuristische politiereeks. De verhalen zitten goed in elkaar en zijn vlot geschreven. Het is boeiend te lezen hoe Eve zich tegen de rijkdom van haar echtgenoot verzet. Eve is gewend haar eigen boontjes te doppen. Ze is opgegroeid met een vader die zich met grote regelmaat aan haar vergreep en ze vastbesloten nooit meer afhankelijk van iemand te zijn. De liefde van de knappe Roarke verwart haar. Eigenlijk is hij te mooi om waar te zijn maar toch is hij levensecht en overduidelijk stapelverliefd op haar. Hoe moet ze met al die liefde – en lust - omgaan?

Voor haar collega's is Eve niet altijd even vriendelijk maar toch staan Peabody en McNab altijd te trappelen om voor haar aan de slag te gaan. Eve is een intimiderend persoon bij wie mensen graag in de smaak willen vallen. Een compliment van Eve voelt als het winnen van een felbegeerde award. Toch gaat er iets kwetsbaars van Eve uit. Gelukkig heeft ze dat zelf niet in de gaten, het zou haar slapeloze nachten bezorgen.

Wanneer Eve ontdekt dat Draco zich zelfs aan zijn eigen dochter heeft vergrepen, wordt de zaak persoonlijk. Wil ze nog wel dat de moordenaar voor zijn of haar misdaden moet boeten? Soms neemt gerechtigheid een bijzondere vorm aan. Vermoorde getuige is het beste boek van J.D. Robb dat ik tot nu toe heb gelezen.

ISBN 9789022575550 | paperback | 333 pagina's | Boekerij | februari 2017
Vertaald door TextCase
© Annemarie, 18 maart 2017
Lees de reacties op het forum en/of reageer, klik HIER