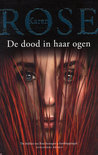 De dood in haar ogen
Karen Rose

Rechercheur Noah Webster en zijn partner Jack Phelps hadden bijna de derde moord over het hoofd gezien, omdat het er uit zag als zelfmoord. Maar Noah merkt een paar vreemde dingen op: een open raam midden in winter, en schoenen met een paar wel erg hoge hakken. Vreemd bij een zelfmoord en bovendien hetzelfde als dat andere geval, waar hij een week eerder mee te maken had. Toen hadden ze het nog gewoon afgedaan als zelfmoord. Voor zij er achter zijn dat er meer gevallen zijn, weet de lezer al wat de bedoeling van de moordenaar is.

Noah Webster is een van de hoofdpersonen. We volgen ook nog Eve Wilson, een vrouw met een bepaald niet gewoon verleden. Zij is getekend voor het leven, maar vast van plan zich niet te laten kennen. Ze is een doctoraalonderzoek aan het doen en maakt daarbij gebruik van een virtuele wereld op internet, Shadowland. Een spel waarin vooral mensen die in het echte leven niet zo succesvol zijn, of die psychisch beschadigd zijn, zich kunnen gedragen zoals ze willen. En we volgen de moordenaar, waarvan je geen idee hebt wie het is.
Kandidaten genoeg, want naast deze drie hoofdpersonages zijn er nog vele bijfiguren, met kleine of grotere rollen. Wat is de rol van de journalist? En wat hebben die vader en zoon er mee te maken?
Noah Webster, die een roerig verleden heeft, krijgt behalve met de liefde ook te maken met vreemd gedrag van zijn partner.

Al deze verwikkelingen volgt de lezer op het puntje van zijn stoel. Het is zoals we dat kennen van Karen Rose, wederom een bloedstollende spannende plot.
Het is een boek met meer dan vijfhonderd pagina's, maar iedere pagina is het waard er de tijd voor te nemen. Boven de hoofdstukken staat een tijdsaanduiding en we wisselen steeds van perspectief. Dat romantische tintje had niet direct gehoeven, maar het verhoogt de spanning wel.
Een thriller tegen de achtergrond van computergame. Wie nu nog beweert dat gamen niet gevaarlijk is…

ISBN 9789026194177 | Paperback | 553 pagina's | Uitgeverij De Fontein | juni 2011
© Marjo, 1 augustus 2011
Lees de reacties op het forum en/of reageer, klik HIER
---