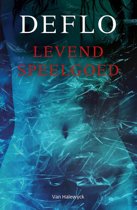 Levend speelgoed
Luc Deflo


Is de ene jongedame zo slim om niet in de gladde praatjes van een onbekende te trappen, een aantal anderen zijn goed van vertrouwen en tonen zich bereid die jonge goed uitziende man te helpen. Ze kunnen hem toch niet laten sjouwen met die enorme koffer of stapel boeken terwijl hij zijn arm in een mitella heeft of met krukken loopt?

De goedgelovige meisjes verdwijnen, en als hun vermissing wordt gemeld zijn het de rechercheurs Nadia Mendonck en Dirk Deleu die op de zaak gezet worden. Maar er zijn behalve de slimme jongedame geen aanwijzingen, geen getuigen, en ze hebben geen enkel idee. Het is wel opvallend dat de meisjes op elkaar leken, maar wat moeten ze daar mee, anders dan concluderen dat er een man op pad is die iets met dat soort types heeft.Maar dan worden de lijken gevonden: het is een seriemoordenaar, en wel eentje die zijn sporen heel goed weet te verbergen.

De lezer weet wie de onverlaat is. We volgen zijn doen en laten, kennen zijn overwegingen en zijn woede versus vrouwen. Hij heeft het over de dringende noodzaak - die hem overvalt zonder dat hij het tegen kan houden - die meisjes te overmeesteren nadat ze in zijn gladde praatjes zijn getrapt, om hen dan te misbruiken en te vermoorden. Langzaam komen we er ook achter wat zijn drijfveer is, en weten dan dat deze man zijn gedrag nooit zal kunnen veranderen.
Hij moet gestopt worden door de politie. En zowat halverwege het boek doen ze dat ook. Tim Baeten wordt voor de rechter gedaagd, waar hij – immers afgestudeerd in de rechten – nog steeds probeert iedereen om zijn pink te winden. Maar hij ziet in dat de weinige bewijzen die gevonden worden hem de das om zullen doen, en hij weet te ontsnappen.

De spanningsboog is niet echt groot, de dader en zijn motieven zijn immers bekend. Het verhaal gaat dan verder alleen nog over hoe lang Tim uit handen van de politie weet te blijven en hoeveel slachtoffers hij in de tussentijd nog maakt. Een interessant gegeven is dan nog wel de connectie die hij heeft met een van de rechercheurs. Een band die natuurlijk even uitgebuit moet worden.

Een andere vorm van het verhaal had het vast spannender gemaakt, het einde is nu niet echt verrassend en dat wil je bij een thriller toch eigenlijk wel. Het verhaal speelt zich grofweg af tussen Leuven en Antwerpen, en wie Deflo kent weet dat we dan ook getrakteerd worden op lokale diversiteiten en een sappig Vlaamse woordenschat.
Mede daardoor geeft dit boek een aantal uren leesplezier en daar gaat het maar om.

Luc Deflo (1958, Mechelen - 2018) was een van de succesvolste Vlaamse thrillerauteurs. Bijna twintig jaar lang verwende hij zijn lezers met ijzersterke plots, mysterieuze personages en bloedstollende scènes.

ISBN 9789461318961 | Paperback | 320 pagina's | Uitgeverij Pelckmans | februari 2019
© Marjo, 17 april 2019
Lees de reactie op het forum en/of reageer. Klik HIER