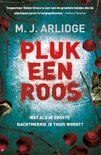 Pluk een roos
M.J. Arlidge

Inspecteur Helen Grace heeft een aantal moordzaken succesvol afgerond. Ze is een beroemdheid geworden maar dat maakt haar beslist niet bij iedereen geliefd. Haar doortastende, eigenwijze gedrag én haar succes hebben haar vijanden opgeleverd. Mensen die zich door haar gepasseerd voelen, jaloers zijn of het gevoel hebben in haar schaduw te staan. Helen heeft het zichzelf niet makkelijk gemaakt. Toch zal ze alles zonder aarzelen opnieuw doen. Zo is Helen nu eenmaal. Ze wil mensen redden, ongedacht of haar dat populair maakt of niet.

Wanneer een gezin op een strand, goed verborgen in het zand, een lijk aantreft, wordt Helen op de zaak gezet. Het slachtoffer is een jonge vrouw. Ze is door honger om het leven gekomen. Wanneer Helen hoort hoe uiterst zorgvuldig de dader te werk is gegaan, heeft ze het gevoel dat de moordenaar ervaren is. Hij heeft zo veel mogelijk bewijsmateriaal verwijderd en het slachtoffer uiterst zorgvuldig verstopt. Heeft Helen voor de derde keer met een seriemoordenaar te maken?

Hoofdinspecteur Geri Harwood, Helens baas, weigert haar vermoedens te delen. Ze suggereert zelfs dat Helen geobsedeerd is door seriemoordenaars. Helen besluit haar bevindingen te verzwijgen. Aan de hand van een pacemaker wordt het slachtoffer geïdentificeerd. Het gaat om Pippa Briers, een meisje dat het nodige heeft meegemaakt. Haar vader Daniel weigert te geloven dat zijn dochter niet meer leeft. Hij heeft Pippa weliswaar al drie jaar niet gezien maar ze plaatste regelmatig een tweet. Ook stuurde ze haar vader af en toe een berichtje. Pippa is echter al een paar jaar dood. Wie heeft zich voor haar uitgegeven en de berichten verstuurd?

Rechercheur Sanderson, een collega van Helen, houdt zich met een andere zaak bezig. Ruby, een jonge vrouw, is door haar ouders als vermist opgegeven. Ruby stond, na een moeilijke periode, op het punt weer bij haar ouders te gaan wonen maar ineens verdween ze uit beeld. Volgens een nietszeggend tekstbericht is ze zelf vertrokken maar haar ouders geloven er niks van. Sanderson erkent hun bezorgdheid maar heeft in eerste instantie het idee dat het niet om een politiezaak gaat. Dan vertellen de ongeruste ouders echter iets dat ook Sanderson bezorgd maakt. Ruby, die aan een zware vorm van astma lijdt, is zonder haar inhalator vertrokken.

De lezer weet al vanaf de eerste bladzijde van deze intense thriller dat Ruby inderdaad niet vrijwillig is verdwenen. Na een avondje stappen was ze dronken haar bed ingedoken. Toen ze de volgende dag wakker werd, bevond ze zich op een andere plek. In een kelder. Iemand heeft haar uit haar eigen slaapkamer ontvoerd en houdt haar sindsdien gevangen. Vreemd genoeg noemt haar ontvoerder haar "Summer". Hij heeft haar bovendien van een tatoeage voorzien, een klein, blauw vogeltje. Exact dezelfde tatoeage is aangetroffen op de arm van de dode Pippa maar dat weet Ruby niet. Sanderson en Helen zijn op hun beurt niet van de gloednieuwe tattoo van Ruby op de hoogte.

Helen en Sanderson krijgen in de gaten dat hun zaken raakvlakken vertonen. Zo blijken Ruby en Pippa erg op elkaar te lijken en zijn ze onder soortgelijke omstandigheden verdwenen. Helen besluit dit zo veel mogelijk voor haar baas te verzwijgen. Eerst moeten ze zekerheid hebben. De politievrouwen beseffen dat ze vaart achter het onderzoek moeten zetten. Als Ruby daadwerkelijk door de moordenaar van Pippa is ontvoerd, gaat ze een vreselijke dood tegemoet. Dan is er ineens een verdachte. Een man die net iets te toevallig op de verkeerde plekken is opgedoken. Kan hij het tweetal naar Ruby leiden?

Dit derde boek in de Helen Grace-reeks is minstens even spannend als de eerste twee delen. Het verhaal is ijzersterk geschreven en goed opgebouwd. Daarnaast is Helen Grace gewoonweg een briljant bedacht personage. Ze straalt een enorme kracht uit. Helen heeft afgrijselijke dingen meegemaakt en daar de nodige psychische schade door opgelopen. Het heeft haar beschadigd maar toch kruipt ze nooit in de slachtofferrol. De beroemde uitspraak "Alles wat mij niet doodt, maakt mij sterker." van Friedrich Nietzsche gaat zonder twijfel voor haar op. Helen is een bikkel met een kwetsbare kant die ze slechts aan weinigen toont. In dit boek neemt ze eindelijk iemand in vertrouwen. Is het de juiste persoon?

Om te zeggen dat ik enthousiast over deze reeks ben, is zo onderhand een understatement. Ik ben inmiddels een echte fan! Het volgende boek zal Klikspaan gaan heten. Gelukkig verschijnt het al in november. Ik kan bijna niet wachten tot ik me opnieuw in een verhaal over Helen Grace mag storten!

ISBN 9789022577172 | paperback | 397 pagina's | Boekerij | mei 2016
Vertaald door Yolande Ligterink
© Annemarie, 1 augustus 2016
Lees de reacties op het forum en/of reageer, klik HIER