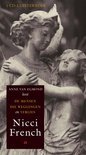 Verlies & De mensen die weggingen


Nicci French

Twee verhalen (novellen?) in een boekje.
'Verlies' gaat over een gezin dat op vakantie is geweest naar een huis met een zwembad. In dat zwembad is het jongste kind van een jaar of vijf verdronken. Compleet aangeslagen proberen ze thuis de draad van hun leven weer op te pakken. Dat lukt niet echt.
Rick, de vader, drinkt teveel, en wordt daar dan weer kribbig van. Max, de zoon van tien, lijkt zich weer als vanouds te gedragen, tot de school aan zijn moeder vraagt om eens te komen praten: hij pest andere kinderen, lijkt aandacht te vragen door rare dingen te doen. De ik-figuur, Stella, kan niet huilen, ze gaat als een automaat door met wat er gebeuren moet, regelt bijvoorbeeld de therapeut voor Rick, maar zelf wil ze geen hulp. Hoezeer ze langs elkaar heen leven wordt duidelijk als de therapeut, tegen haar eigen gewoonte in, contact zoekt met Stella, en Rick op zijn beurt vraagt aan zijn moeder of die wil komen logeren, en als dat logeren eigenlijk spioneren blijkt te zijn.
Door de onderhuidse spanning en de akelige ontknoping (die je wel aan ziet komen) is dit verhaal niet alleen een psychologische schets van het mensen omgaan met hun noodlot, het is ook volledig in de traditie van Nicci French.

Het tweede verhaal is korter, 'De mensen die weggingen'.
Het gaat ook over een gezin, maar hier wordt niet verteld wat er precies aan de hand is. De vertelster is de jongste dochter, Josephine. Haar moeder ligt de hele dag maar op bed met haar ogen dicht, en het kind heeft weinig aan haar. Josephine is dol op haar vader, die vrachtwagenchauffeur is. Dan is er nog een oudere broer, Stevie, die na een daverende ruzie uit huis vertrekt, en een zus, Ali. Zij is vooral degene die voor Josephine zorgt, dus als zij op een dag verdwenen is, mist Josephine haar erg. Ze vindt het ook wel vreemd dat Ali helemaal geen kleren of andere dingen heeft meegenomen.
Dan was er ook nog ooit een meisje in huis, dat schoonmaakte en kookte, Cathy. Die is ook verdwenen en haar spullen zijn er nog. Dan komt de dag dat een vreemde vrouw Josephine uit school haalt, en aankondigt dat ze in het vervolg elders zal wonen.
Mooi verhaal, al zal de lezer nooit precies weten wat er aan de hand is. Het blijft giswerk.

ISBN 90-414-1023-6 uitgever Anthos aantal pagina's 182
Op de afbeelding Audioboek (CD) | Rubinstein b.v. ISBN: 9054445998 voorgelezen door Anne van Egmond.
© Marjo, mei 2007
Lees de reacties op het forum en/of reageer, klik hier!
---