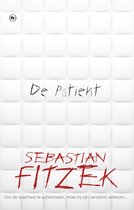 De patiënt
Sebastian Fitzek


Hoever ga je om je kind te vinden, of hij nog leeft of al dood is? Het leven van Till Berkhoff is volledig verwoest na de ontvoering van zijn zoontje, de zevenjarige Max. Zijn vrouw verlaat hem, neemt hun dochtertje mee en Till blijft achter met een schuldgevoel dat zo enorm is dat hij er niet mee kan leven.
Hij denkt net als de politie dat Guido Tramnitz, die twee kindermoorden bekend heeft, ook Max vermoord heeft. Maar waar heeft hij dan het stoffelijk overschot gelaten?
Waarom bekent hij wel de moord op het meisje Laura en haar moeder, en op de jongen Jonas, maar zwijgt hij in alle toonaarden over Max?
Nu heeft Till een zwager, Oliver Skania, die inspecteur is bij de recherche. Skania kan - nee, hij moet! - er voor zorgen dat Till opgenomen wordt in dezelfde kliniek waar Tramnitz verblijft voor behandeling.
Onder protest doet Skania dat. Till komt in de Stein-kliniek terecht, onder het pseudoniem van wijlen Patrick Winter, wiens zoontje Jonas eveneens slachtoffer is geworden van Tramnitz.
Hij weet inderdaad contact te leggen met de kindermoordenaar, maar het leven als Patrick Winter valt hem zwaar. Winter blijkt een speciale medische behandeling nodig te hebben, die Till nu dus krijgt. En hij dreigt door de mand te vallen als hem talenten worden toegeschreven van Winter, die hij absoluut niet heeft. En dan is er de kindermoordenaar, die ook niet zachtzinnig omgaat met de man die hem steeds maar vragen stelt. Tramnitz speelt een spelletje met Till, laat hem alle hoeken van de kamer zien en het is maar de vraag wie dit gaat winnen.
En dan is er nog de corrupte verzorger, een alcoholverslaafde arts, en een meisje dat gedwongen wordt de hoer te spelen. En een arts die haar handen vol heeft aan dit zootje ongeregeld.
Sebastian Fitzek heeft al eerder bewezen een groot thrillerschrijver te zijn. En dat doet hij nog eens in deze keiharde psychologische thriller. Net als zijn hoofdpersonage speelt hij een spel.
Als een mens het kwade èn het goede in zich heeft, dan vertegenwoordigt Fitzek zelf de goede kant - getuige het spel met de lezer - en maakt hij van zijn hoofdpersonage de vertolker van het kwaad.
Op ingenieuze manier weet Fitzek de lezer om de tuin te leiden, en een plot neer te zetten dat zo superspannend en verrassend is, dat je ademloos tot het einde doorleest.
En als het uit is wil je eigenlijk nog eens vooraan beginnen: hoe zat het nou?
Hij wisselt het vertelperspectief af tussen Tramnitz, Winter, Berkhoff en nog anderen, waardoor de spanning nog meer stijgt.
En als het gedaan is met het verhaal volgt er een heel bijzonder dankwoord. Een dankwoord geschreven als een Fitzek-thriller, zo zegt hij het zelf.
Sebastian Fitzek studeerde rechtswetenschappen en werkt als journalist en schrijver voor radio en tv. Hij is de meester van de psychologische thriller. Van zijn boeken gingen in Duitsland reeds miljoenen exemplaren over de toonbank en ook in Nederlanden België heeft hij inmiddels een grote schare liefhebbers.
ISBN9789044360318 | paperback | 352 pagina's | Uitgeverij the House of the Books | april 2020

© Marjo, 23 april 2020

Lees de reacties op het forum en/of reageer, klik HIER