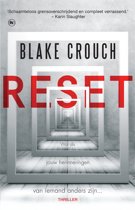 Reset
Blake Crouch

FMS. Het klinkt als een vreselijke ziekte, maar het is geen ziekte in de zuivere zin van het woord. Het False Memory Syndroom is het gevolg van onverstandig gerommel door wetenschappers. Natuurlijk dachten ze goed bezig te zijn. Veel uitvindingen die met de beste bedoelingen gedaan worden, pakken faliekant verkeerd uit als ze in de verkeerde handen vallen.

Het verhaal begint met een vrouw die op het dak van een wolkenkrabber zit. Rechercheur Barry Sutton is in de buurt en wordt gesommeerd haar te bepraten en er voor te zorgen dat ze niet gaat springen. De vrouw vertelt hem dat ze lijdt aan FMS, het leven is haar te zwaar geworden. De dood van de vrouw zit Barry danig dwars, te meer omdat hij zelf zijn dochter verloren heeft. Het is al weer elf jaar geleden, maar het doet nog steeds pijn. Ze was pas zestien en het heeft hem zijn huwelijk gekost.
Als hij er over praat met een collega vertelt ze hem, dat het geval van deze vrouw niet op zich staat:

In alle gevallen had de patiënt last van acute valse herinneringen. Niet slechts een of twee. Een volledig ingebeelde geschiedenis die grote delen van hun leven tot dat moment besloeg. Vaak ging die maanden of jaren terug. In sommige gevallen decennia.'
' Dus ze verliezen de herinneringen aan hun echte leven?'
' Nee, ze hebben plotseling twee sets herinneringen. Een set echte en een set valse. In sommige gevallen kregen de patiënten het idee dat hun herinneringen en bewustzijn van het ene naar het andere leven waren verhuisd. In andere ervoeren patiënten een plotselinge flits van valse herinneringen uit een leven dat ze nooit geleefd hadden.'

Als Blake hoort dat het zelfmoordcijfer erg hoog ligt, gaat hij op onderzoek uit. Wat is hier aan de hand?

Een andere verhaallijn speelt zich elf jaar eerder af, met als hoofdpersonage neurowetenschapper Helena Smith, die er van droomt een middel te vinden om patiënten met Alzheimer te helpen, met name haar eigen moeder. Haar wordt een zeer verleidelijk aanbod gedaan, en inderdaad vindt ze een techniek die herinneringen kan manipuleren. Helaas heeft haar baas een andere doelstelling dan zij. En dan loopt alles fout het eind der tijden aanbreekt.

In korte hoofdstukken waarbij je goed moet letten op de tijdsaanduiding wordt een ongelooflijk verhaal verteld. Spannend en futuristisch met door elkaar lopende tijdlijnen, hetgeen steeds ingewikkelder wordt. Stel je eens voor dat een techniek als deze echt uitgevonden zou worden? Crouch laat zien wat er zou kunnen gebeuren als de mens kan spelen met de tijd en met herinneringen. Wat gebeurt er als iemand je herinneringen verandert? Hoe weet je of de ander goede, dan wel slechte bedoelingen heeft?

Blake Crouch (1978) is een Amerikaanse auteur, vooral bekend om zijn Wayward Pines Trilogy, die werd aangepast in de televisieserie Wayward Pines. Hij speelt graag met soortgelijke thema's in zijn boeken: Wat als je leven niet is zoals je dacht…

ISBN 9789044355826 | paperback | 347 pagina's | Uitgeverij House of the Books | juni 2019
Vertaald uit het Engels door Caspar Wijers en Henk Moerdijk
© Marjo, 31 augustus 2019

Lees de reacties op het forum en/of reageer, klik HIER