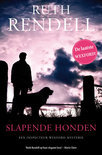 Slapende honden
Ruth Rendell
Laat ik eerst even vermelden dat ik geen Wexfordkenner ben. Dus ook niet speciaal een fan.
Natuurlijk maakt dat verder niets uit, als het er om gaat of je kunt genieten van een verhaal rond die persoon. Ik heb dat zeker gedaan, ik wilde het boek niet meer wegleggen, ik wilde weten of die man die voor Inspecteur Wexford een obsessie vormde, ook inderdaad die moordenaar is zoals hij denkt.
Het is een duik in het verleden, in de eerste zaak waarbij Wexford betrokken was, een moord op een schijnbaar brave huisvrouw, viel zijn oog op een man, die zijn hond in de buurt uitliet.
De man is helemaal niet betrokken bij de zaak, niet officieel, maar onze inspecteur vertrouwt hem niet. Waarop baseert hij zijn oordeel? Tja, dat is het probleem. Het is een gevoel. Noem het intuïtie. De man heeft hem op een bepaalde manier strak aangekeken, alleen daarom 'weet' Wexford dat de man de dader is, en hij weet dat de dader weet dat hij dat weet. Leuk allemaal, maar natuurlijk wordt de man niet veroordeeld. Zelfs niet verdacht.
Maar Eric Targo lijkt er op te kicken om Wexford dwars te zitten: hij stalkt hem zelfs een tijdje steeds onder het mom van hond uitlaten. Targo is een hondenvriend, hij verschijnt nooit zonder hond. Nog een paar keer ontmoet Wexford de man, en steeds 'weet' Wexford dat de man de dader is van een moord.
Als hij, anno nu, het verhaal vertelt aan een collega, omdat hij Targo weer opnieuw gespot heeft, wijst die erop dat er helemaal geen motief is. Waarom zou Targo die mensen waar hij niets mee van doen had, vermoorden? Maar Wexford is er van overtuigd, hij verwacht dus ook een nieuwe moord.
Intussen is er anno nu een andere verhaallijn: de vrouw van de collega maakt zich zorgen om een meisje met een Pakistaanse achtergrond. Dat meisje haalt prachtige punten op school, maar blijft niet doorleren. Wordt ze misschien gedwongen tot een huwelijk? Een vrouwelijke collega verdiept zich in die zaak. Als het meisje ook nog verdwijnt, lijken die vermoedens bevestigd.

Twee zaken die alleen berusten op vermoedens. Ik vraag me af of een politie-inspecteur in de werkelijkheid zoveel tijd zou mogen besteden aan een zaak waarbij niet veel op feiten berust, maar voor dit boek maakt dat niet uit. Het is geloofwaardig en spannend. En dat ken ik dan weer wel van Ruth Rendell. Want niet al haar boeken draaien om deze Wexford. Gelukkig.
Ach, een aardige man hoor, maar het gaat mij toch meer om de psychologie van de plot. En laat Rendell daar nou een meester (es) in zijn.
ISBN 9789022997390 | 256 pagina's | A.W. Bruna Uitgevers | januari 2011
Vertaald door Rogier van Kappel
© Marjo 19 februari 2011
Lees de reacties op het forum en/of reageer, klik HIER