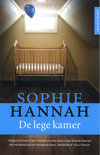 De lege kamer
Sophie Hannah

Waarom wordt Fliss Benson zo plotseling gebombardeerd tot de opvolger van haar baas Laurie Mattrass? Ze is stomverbaasd, dit wilde ze helemaal niet! Het betekent namelijk ook dat Laurie opstapt, en ze is stiekem smoorverliefd op hem. Bovendien dumpt hij de documentaire die hij aan het maken is, bij haar op haar bordje, en dat is nogal wat. Hij was bezig een film te maken over gerechtelijk dwalingen, over vrouwen die ten onrechte veroordeeld zijn voor de moord op hun baby. Speciaal heeft hij het gemunt op de deskundige die de rechter wist te overtuigen.
Fliss is een consciëntieuze en gewetensvolle vrouw. Niet alleen accepteert ze haar nieuwe taak, ze probeert ook de waarheid te vertellen.

En zo komt ze in aanraking met vrouwen van wie ze denkt dat die wel degelijk hun kind(eren) vermoord hebben, naast vrouwen die inderdaad onschuldig zijn. Hun kind kan gestorven zijn vanwege wiegendood, of een aangeboren ziekte.
Er is nog iemand anders met deze zaak bezig, iemand die er niet voor terugdeinst vrouwen te vermoorden, als hij (of zij) denkt dat ze schuldig zijn. Bij de slachtoffers vindt men een kaart waarop zestien cijfers staan. Fliss krijgt er ook een, en later hoort ze dat ook Laurie er een heeft gekregen. Is hij daarom weggegaan? Fraai heerschap is het dan!

De politie staat voor een raadsel. Rechercheur Simon Waterhouse heeft eigen ideeën, die helemaal niet stroken met die van zijn baas. De kaarten met cijfers, daar kunnen ze evenmin een touw aan vastknopen. En ze denken dan Fliss gevaar loopt, maar denk maar niet dat zij zich laat tegenhouden!

Wie Sophie Hannah kent, weet dat je een ingewikkelde plot kan verwachten. En zo is het dan ook. Er zijn veel meer personages, meer verwikkelingen, en steeds als je denkt dat je weet hoe het zit, komt er weer een nieuwe verhaallijn naar voren.
Een lekker puzzelthriller dus. Echt spannend is het niet, maar je wilt allicht wel weten waarom Laurie zo raar doet? En wat die cijfers betekenen. En... of de vrouwen wel of niet terecht zijn veroordeeld.

ISBN 9789032513030 | paperback |432 pagina's | Uitgeverij De Fontein |oktober 2011
Vertaald uit het Engels door Anna Livestro
© Marjo, 30 januari 2014
Lees de reacties op het forum en/of reageer, klik HIER