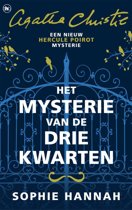 Het mysterie van de drie kwarten
Sophie Hannah
Voor wie de Poirotmysteries van Agatha Christie graag las, zijn ook de nieuwe verhalen van Sophie Hannah waarin de Waalse detective een hoofdrol heeft niet te versmaden.

In het mysterie van de drie kwarten, dat verteld wordt door inspecteur Edward Catchpool, wordt Poirot geconfronteerd met een brief waar zijn handtekening onder staat, en die hij naar vier personen zou hebben gestuurd. Deze mensen komen op hoge poten verhaal halen, want ze worden beschuldigd van moord, met als slachtoffer iemand die ze niet eens kennen. Poirot is net zo verbaasd, verbijsterd zelfs, hij, de onkreukbare detective weet immers niets van deze brief! Natuurlijk gaat hij meteen op zoek naar die briefschrijver. Hoe durft die persoon zijn naam te gebruiken!

De eerste van de vier geadresseerden die op de stoep staat is Sylvia Rule. Hoogst verontwaardigd is ze, zij denkt dat haar aanstaande – en niet welkome - schoonzoon de detective opgestookt heeft. Maar bijna nog erger gaat de heer John McCrodden te keer, die Poirot er van beschuldigt samen te spannen met zijn vader, Rowland McCrodden. Rowland is rechter en zou graag zien dat zijn zoon in zijn voetsporen treedt, hetgeen John altijd geweigerd heeft.
De derde is Annabel Treadway, die verklaart wel op de hoogte te zijn van de identiteit van het vermeende slachtoffer, maar ook aangeeft er zeker van te zijn dat diens dood een ongeluk was. Dat slachtoffer is Barnabas Pandy, de grootvader van Annabel. Hij woonde in hetzelfde - enorme – huis waarin ook Annabel, haar zus Lenore en diens twee kinderen wonen. Pandy, een oude man is verdronken is bad, zonder dat er van boze opzet enige sprake was.De vierde ontvanger van de vermaledijde brief is Hugo Dockerill, afdelingshoofd op een jongensschool.

Barnabas Pandy is inderdaad dood, en Poirot moet zeker weten of hij niet toch een slachtoffer was van een gewetenloze moordenaar. Maar wie is de briefschrijver, die het brutaalweg aandurfde de naam van Poirot te gebruiken? En waarom zijn deze vier mensen uitgekozen? Kennen zij elkaar misschien? Kenden zij Pandy? De titel van het verhaal slaat terug op een plak cake, door de detective zo vakkundig in vier stukjes gesneden. Vier geadresseerden, waarvan er drie een directe of verre connectie blijken te hebben met de oude man. Maar waarom heeft nummer vier dan ook een brief gekregen?

Hercule Poirot wordt geassisteerd door inspecteur Catchpool, die in ik-persoon het mysterie uit de doeken doet. Het is dus niet Poirot zelf die vertelt, zodat hij allerlei verbanden en raadsel achter kan houden tot de uiteindelijke ontknoping, waarbij tot in de finesses verteld wordt hoe hij alles uitgepuzzeld heeft. In dit gedeelte lijkt Agatha Christie herself aan het woord te zijn!

Sophie Hannah (Manchester, 1971) is een Britse auteur van kinderboeken, romans en poëzie, maar in Nederland vooral bekend vanwege haar psychologische thrillers. Het mysterie van de drie kwarten is haar derde Poirot-mysterie.

ISBN 9789044354881 | Paperback | 336 pagina's | House of the Books | september 2018
© Marjo, 17 oktober 2018
Lees de reacties op het forum en/of reageer, klik HIER