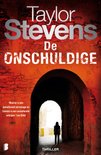 De onschuldige
Taylor Stevens
Hannah was nog maar vijf jaar oud toen ze door David, de vriend van haar moeder Charity, werd ontvoerd. Hij plukte Hannah bij haar school weg en vluchtte met haar naar het buitenland. Sindsdien is Hannah spoorloos. Al acht jaar. Het enige wat haar ouders Charity en Logan zeker weten, is dat het nu dertienjarige meisje zich bij de Uitverkorenen bevindt, een religieuze sekte waaruit ze zichzelf met veel moeite hebben weten te ontworstelen. Helaas zijn de diverse Toevluchtsoorden van de Uitverkorenen over de hele wereld verdeeld.

Wanneer Logan plotseling verneemt dat Hannah zich in Buenos Aires bevindt, schakelt hij zijn beste vriendin Vanessa "Michael" Munroe in. Munroe is een informationist. Haar beroep is het verzamelen van allerhande informatie voor diverse opdrachtgevers. Munroe laat weinig mensen in haar leven toe maar voor Logan koestert ze een diepe genegenheid. Niemand weet dat Logan, die homofiel is, de vader van Hannah is. Tot voor kort wist zelfs Munroe dat niet. Nu ze de waarheid weet, is ze bereid te helpen. Wie haar in wil huren heeft daar normaliter een grote geldsom voor nodig maar voor Logan maakt Munroe een uitzondering.

Munroe heeft zelf nooit in een sekte gewoond maar haar ouders hebben haar altijd zwaar verwaarloosd. Op haar veertiende liep ze weg. Ze bemachtigde een baantje bij Francisco Beyard, een dubieuze zakenman. Even was Munroe gelukkig maar al snel veranderde haar leven in een hel. Munroe groeide uit tot een supersoldaat. Een hevig getraumatiseerde supersoldaat. Op het moment dat Logan haar hulp inroept, zijn haar nachtmerries zo hevig dat ze voor de veiligheid van haar vriend Noah vreest.

Samen met Logan en zijn vrienden Gideon en Heidi, die eveneens in de sekte zijn opgegroeid, reist Munroe naar Buenos Aires. Munroe vindt het goed dat het drietal zich in Buenos Aires ophoudt maar ze mogen zich niet met de bevrijding van Hannah bemoeien. Ze zijn te emotioneel betrokken. Munroe werkt meestal solo maar nu kan ze wel wat extra hulp gebruiken. Ze zal immers niet alleen informatie maar ook een kind moeten bemachtigen. Gelukkig is Miles Bradford, met wie ze niet lang geleden aan een ontvoeringszaak heeft gewerkt, bereid haar te helpen.
Waar is Hannah? Buenos Aires kent meerdere Toevluchtsoorden. De bewoners, met name de kinderen, leven volkomen geïsoleerd van de buitenwereld. Zij vrezen de mensen uit het "Niets", zoals zij de rest van de wereld noemen. Hun leven bestaat uit het dienen van hun profeet. Munroe zal het vertrouwen van de leiders moeten winnen. Zich met glimlachjes en bewondering naar binnen moeten praten. Voorzichtigheid is geboden. Als de reddingspoging mislukt, zal Hannah razendsnel naar het buitenland verplaatst worden. Als dat gebeurt, is het maar de vraag of ze ooit nog gevonden zal worden.

De onschuldige is indringend en spannend. Vanessa Munroe beschikt over een intrigerende persoonlijkheid. Ze is een kameleon. Met het grootste gemak kruipt ze, indien nodig, in de huid van haar alter-ego Michael. Munroe doodt zonder te aarzelen maar de doden blijven voorgoed bij haar. Gewetenloos is ze namelijk niet. Ook al doodt ze alleen uit zelfverdediging, het schuldgevoel blijft. Haar opgekropte emoties uiten zich door middel van gruwelijke nachtmerries waarin ze hevig van zich af vecht. Uit angst in haar slaap mensen te verwonden, gebruikt Munroe zware slaapmiddelen. Een verslaving en gezondheidsproblemen liggen op de loer.

Wie weet dat schrijfster Taylor Stevens in de sekte Children of God is opgegroeid, beseft dat dit verhaal heel persoonlijk is. Dat maakt het heel aangrijpend. Hannah groeit op in een omgeving waar seks met kinderen heel gewoon is. Hannah is opgevoed met het idee dat ze de profeet moet dienen maar dat neemt niet weg dat de dingen die haar overkomen ( haar aangedaan worden) , haar met een hevige angst vervullen.
Wat ook aan bod komt, is het onbegrip voor de mensen die uit deze sekte zijn gestapt. Sommigen zijn gevlucht, anderen zijn door de sekte gedumpt. Hun aangrijpende verhalen worden door de media verdraaid. Hun hulpkreten worden niet gehoord. De voormalige sekteleden in dit boek stralen een intense eenzaamheid uit. Ze leven in een wereld die ze maar niet kunnen doorgronden.

De onschuldige biedt spanning en actie maar het is ook een aangrijpend verhaal met een intense diepgang. Ik heb grotere bewondering voor Taylor Stevens, die hard heeft moeten vechten om nu een succesvol schrijfster te kunnen zijn.
ISBN 9789022575833 | paperback | 349 pagina's | Boekerij | oktober 2015
Vertaald door Iris Bol
© Annemarie, 23 november 2015
Lees de reacties op het forum en/of reageer, klik HIER