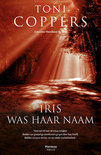 Iris was haar naam
Toni Coppers
In het Zoniënwoud wordt een kolonel van de NAVO doodgeschoten teruggevonden in een ondiep graf. Rond zijn hals heeft hij een ketting met daaraan een omgekeerde piramide en een slang. Het team van commissaris Liese Meerhout gaat op onderzoek uit maar wordt niets wijzer. Ze vinden nergens een aanknopingspunt. Niet in het privéleven en niet in het professionele leven van de kolonel.
Als een week daarna weer een doodgeschoten man in een ondiep graf in het Zoniënwoud teruggevonden wordt probeert het team een verband te vinden tussen beide mannen en tussen de juwelen die beide mannen om hun hals hebben. En wat is de betekenis van de bloem die de 2de dode tussen zijn handen heeft? Weer zet het team alles op alles maar vinden geen aanknopingspunten. Hun enige verdachte moeten ze vrij laten bij gebrek aan bewijs.

Gaat dit terug tot de jeugdjaren van beide mannen? Is het rechercheteam op een pedofiel netwerk gestoten? Wat heeft de verdwijning van een 12-jarig meisje met de dood van beide mannen te maken en hoe past Frank Vervaet in het plaatje? Wat betekent de afkorting LC in de agenda van de kolonel? Allemaal vragen die het team van commissaris Liese Meerhout moet zien te beantwoorden.

Het is het eerste boek die ik lees van deze schrijver. Ik had nog nooit van hem gehoord en toch heeft hij al 7 boeken met als hoofdpersonage Liese Meerhout uit. Sinds 2008 jaarlijks een boek.
Dit boek was een geschenk voor "maand van het spannend boek". Ik stond er dus een beetje sceptisch tegenover. Maar ik moet zeggen dat het boek van begin tot einde heel goed in elkaar zit. De personage zijn goed geschetst, het persoonlijke verhaal van de hoofdpersonages is niet overheersend, de spanning is goed verdeeld en het einde heeft een mooie ontknoping. Iris is haar naam is het 4de boek van de schrijver in de "Liese Meerhout-reeks".

Ik weet niet of iemand van jullie hem kent maar ik heb hieronder zijn vorige boeken in de reeks genoteerd. Ik ga zeker nog meer lezen van deze schrijver. 'k ben benieuwd of zijn "stijl" van in het begin zo was. Als ik de recensie over "Dixit" lees op de leestafelsite is dat niet altijd zo geweest (een boek uitgegeven voor de Liese Meerhout serie).
'k vraag me ook af waarom ik nooit van deze schrijver gehoord had. Hij is tamelijk veel genomineerd geweest voor prijzen en is zelf winnaar geweest van de Hercule Poirotprijs in 2014.

Niets is ooit (2008 - Manteau) - Genomineerd voor de Hercule Poirot Prijs 2008
Engel (2009 - Manteau)
De geheime tuin (2010 - Manteau) - Genomineerd voor de Diamanten Kogel 2010
Iris was haar naam (2011 - Manteau) - Genomineerd voor de Diamanten Kogel 2011
Stil bloed (2012 - Manteau)
Zwerfvuil (2013 - Manteau)
Dood water (2014 - Manteau) - Winnaar Hercule Poirot Prijs 2014

ISBN 9789022326046 | Paperback | 305 pagina's | Uitgeverij Mateau | april 2011
© Inge, 6 juni 2015
Lees de reacties op het forum en/of reageer, klik HIER
---