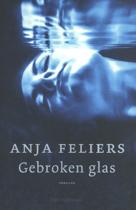 Gebroken glas
Anja Feliers


Waarom wil de zeventienjarige Emmy een einde maken aan haar leven? Is het alleen omdat ze niet kan verwerken dat haar moeder Isabel het gezin zonder opgaaf van redenen in de steek heeft gelaten? Of is er meer aan de hand?

Het is, beseft ze achteraf, een groot geluk dat haar broer Matteo net op tijd thuiskwam om haar te redden. Het brengt het verkleinde gezin in rep en roer. Mathijs, de vader, chirurg van beroep, staat er op dat Emmy hulp zoekt. Zo komt ze terecht bij Kathleen, die een dienst verleent aan haar vriendin Liesbeth, de zus van Mathijs. Ze zit zelf nog in de lappenmand na de scheiding van haar man Lennert en de problemen in haar nieuwe relatie met Lucas.
Zowel met de eerste als de tweede man is ze eigenlijk nog niet klaar. Ze maken op een of andere manier nog deel van haar leven, zo komt ze niet tot rust. Maar Emmy en diens problemen fascineren haar. Ze voelt dat er iets is wat het meisje niet vertelt, en drukt haar op het hart dat ze altijd, al is het midden in de nacht, kan bellen.

Het is inderdaad niet alleen het plotselinge vertrek van moeder Isabel dat Emmy dwars zit. Haar vriend Tom, ook buurjongen, heeft pas de relatie beëindigd, ook al zonder te zeggen waarom. Matteo wil zijn zus helpen en stapt naar Tom, om naar de reden van de breuk te vragen. Hij ontdekt schokkende dingen.
Als Emmy besluit weer om te gaan met haar vriendinnen, valt een man haar lastig. Dit voorval triggert evenwel iets, waar ze mee naar Kathleen stapt. Mathijs heeft nog een probleem: moet hij Isabel inlichten? Als Kathleen zegt van wel, staat zijn ex wel meteen op de stoep…

Achteraf weet je als lezer dat er kleine aanwijzingen waren dat er meer gebeurd was dan er verteld wordt, maar pas heel laat, het boek is al half uit, wordt duidelijk dat het toch echt een thriller is. Als je het volhoudt tot daar, wil je wel doorlezen, dan ben je intussen nieuwsgierig naar wat Emmy dan wel verbergt. Hetgeen haar overkomen is, kun je terecht een trauma noemen. De thema's zijn machtsmisbruik, wraak en verdrongen emoties.
Een chickthriller dus, met heel veel relatieproblemen en tenslotte toch spanning en gevaarlijke situaties. En een daverend slot.

Anja Feliers (1971, Bilzen) is een Vlaams schrijfster van kinderboeken en boeken voor volwassenen. Zij woont in Rekem, waar dit negende boek rond dezelfde hoofdpersoon, de psychologe Kathleen Verlinden zich afspeelt.

ISBN 9789463831109 | Paperback | 292 pagina's | Uitgeverij van Halewijck | september 2019

© Marjo, 27 januari 2020

Lees de reacties op het forum en/of reageer, klik HIER