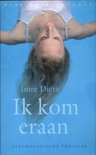 Ik kom eraan
Imre Dietz

Mirka studeert psychologie in Utrecht, een stad waar ze voor gekozen heeft omdat haar lievelingsneef Tom, daar na zijn studie is blijven wonen. Ze heeft een tijdje bij hem ingewoond, maar is nu op zichzelf, en leidt haar eigen leven. Via een vriendin heeft ze het tangodansen ontdekt. Ze is er dol op, en gaat veel en graag dansen. Als ze daar op een dag een donkere jongeman ontmoet, die fantastisch danst, valt ze meteen voor hem. Pas na een paar keer leert ze hem beter kennen en hoort ze dat hij Sebastian heet. Een passionele relatie volgt.

Alles goed zou je denken, maar ze maakt zich zorgen om Tom, die depressief is. Even denkt ze het opgelost te hebben door hem naar zijn huisarts te sturen zodat hij anti-depressiva krijgt - heeft ze net een college over gehad, is die studie nog ergens goed voor - maar als ze leest dat die akelige bijwerkingen kunnen hebben, sms't en belt ze hem. Hij reageert daar niet op, en ze gaat bijna in paniek bij hem langs. Maar treft Ziggy bij hem aan, hun jongere nichtje. Ze is er niet blij mee, maar het is Toms leven en neef en nicht, dat is geen probleem meer toch? Als Ziggy goed is voor Tom, is ze wel bereid het te accepteren al is ze duidelijk niet zo gecharmeerd van Ziggy. Later zullen we horen wat er in het verleden van beide meisjes gebeurd is. Een akelige gebeurtenis die ze liever vergeten.
Omdat ook Tom zijn verhaal mag vertellen, in cursieve stukjes, weten wij eerder dan Mirka dat Ziggy Tom mee neemt naar een of andere vereniging: HiBiZcus.
Op het moment dat Mirka ontdekt wat het precies voor club is, is het bijna te laat. En het is wel heel toevallig dat Sebastian er ook betrokken bij blijkt te zijn.

Drie weken in het leven van een psychologiestudente, wiens wereld op zijn kop komt te staan met nogal dramatische gevolgen. Alle vier de jongeren – ze zijn begin twintig, Tom is de oudste – komen in een zware fase in hun leven.
Het lijkt een beetje een onwaarschijnlijk verhaal, maar ik weet intussen dat de realiteit eerder erger is dan hetgeen iemand uit zijn duim zuigt. Daar val ik dus niet over.
Het is meer de indeling ten aanzien van de spanningsboog. In de eerste week gebeurt er eigenlijk niet veel, pas in de derde week wordt het verhaal thrillerachtig.
Los daarvan is het boek met recht een psychologisch verhaal: er is iets in het verleden gebeurd waardoor de relatie tussen Mirka en Ziggy sterk beïnvloed wordt. Daar hebben twee poppen, Cindy en Barbie iets mee te maken. En de depressie van Tom, ligt de oorzaak daarvan ook in het verleden? De prille relatie tussen Mirka en Sebastian geeft aanleiding tot een felle jaloezie, die de boel op scherp zet.
Of dit allemaal nog goed kan komen?

ISBN 9789028424234 | paperback |190 pagina's | Uitgeverij Wereldbibliotheek | januari 2012
© Marjo, 24 februari 2014
Lees de reacties op het forum en/of reageer, klik HIER