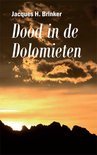 Dood in de Dolomieten
Jacques H. Brinker
Twee Nederlanders bevinden zich in Italië, in de Dolomieten: Maarten probeert er een boek te schrijven en Jasper werkt voor een wijnhuis in Eindhoven en is op zoek naar onontdekte wijnen. Als ze op een terras een kopje koffie drinken zijn ze getuigen van een bruiloft: De Siciliaan Vito trouwt met de plaatselijke Marisa. Als Marisa Maarten - Martino - ziet, moet hij mee naar het feest. Daar treft hij Sabrina, de zus van de bruid. Haar echtgenoot Clemente (de broer van Vito!) is afwezig. Maarten kent het verhaal van hun huwelijk, hoe de jaloerse Clemente alle gangen van zijn vrouw nagaat, en gedrag dat in zijn ogen fout is, afstraft.
Ook ontmoet hij Amanda, een Italiaanse journaliste. Zij is op zoek naar een verhaal, en als Jasper haar vertelt over zijn werk is ze zeer geïnteresseerd.

Jasper heeft een deal gemaakt met signor Silvestrini, een wijnboer, die een heel lekker wijntje produceert.
Maar het is niet helemaal zuivere koffie, en hij voelt er zich niet prettig bij. Als het door gaat scoort hij natuurlijk, maar is die wijnboer wel te vertrouwen?
Als Jasper een dreigbrief krijgt -hij zou een bedrag moeten betalen van zijn winst- vertelt hij Maarten en Amanda over zijn zorgen. Ze besluiten de briefschrijver in plaats van geld een antwoord per brief te geven. Maar wie is die afperser? En hoe komt hij aan zijn informatie? Heeft de wijnboer zijn mond voorbij gepraat?

Terwijl Maarten steeds meer betrokken raakt bij Sabrina, de onbestorven weduwe, springt er ook tussen Jasper en Amanda iets over. Dan blijkt dat Sabrina een echte weduwe is: Clemente wordt onder de rotsen gevonden. De politie twijfelt nog of het een ongeluk is, of misschien zelfmoord, maar de vier weten al zeker dat de man vermoord is.
Jasper wordt bang: er is vast een verband met zijn handel, heeft Silvestrini de man vermoord?
Ze worden alle vier ondervraagd. Zowel Sabrina als Maarten worden door de politie, die niets weet van de wijndeal, als verdachten gezien. Dan neemt Amanda het besluit om zelf op onderzoek uit te gaan. Ze is immers
journaliste?

Dat vormt in feite de kern van het boek: de dood van Clemente die door twee partijen onderzocht wordt. Waar de politie faalt heeft de buitenstaander succes, zo gaat het vaak. Maar natuurlijk is dat niet zonder gevaar! Als het verhaal zich na een lange inleiding eindelijk daarop toespitst wordt het een lekker spannende whodunit.
Voor mij had die romantische toevoeging niet gehoeven, maar goed, ook die verhaallijn hapt vlot weg.


ISBN 978 90 866618 3 Paperback 204 pagina's | Boekenplan | november 2009
Marjo, november 2009
Lees de reacties op het forum en/of reageer, klik hier