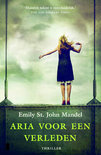 Aria voor een verleden
Emily St. John Mandel
Emily St. John Mandel is van Canadese afkomst. Ze studeerde aan The School of Toronto Dance Theatre; tegenwoodig woont ze in New York. Ze heeft een onmiskenbaar talent om een boeiend, intrigerend verhaal neer te zetten dat velen zal aanspreken. Tot nu toe zijn er twee boeken van haar hand verschenen, waarvan het laatste, The Singer's Gun, onder de enigszins geforceerd aandoende titel Aria voor een verleden in het Nederlands is vertaald. Op 8 mei 2012 wordt haar derde boek uitgebracht in Canada en Amerika.

Hoofdpersoon is Anton Waker, een jongeman afkomstig uit een familie van kleine criminelen, die uit het milieu wilde stappen en 'een normale baan wil waarbij je niet zoveel vraagtekens hoeft te zetten'. Maar daarvoor had hij wel de hulp nodig van zijn nicht Aria, met wie hij vroeger samen een handeltje in vervalste papieren dreef. Het lukte en kort daarna had hij een goede baan en trouwplannen.
Wat doet Anton dan nu in zijn eentje op het Italiaanse eilandje Ischia, terwijl zijn kersverse bruid halsoverkop terugkeert naar New York? Waar is het fout gegaan?

Door middel van flashbacks die kriskras maar in een vloeiend en logisch ritme door het verhaal worden geweven, wordt het leven van Anton uit de doeken gedaan. Het is een geschiedenis van bedrog, van verraad, van liefde, van familiebanden die onverbrekelijk lijken wanneer Anton door Aria wordt gechanteerd om nog één laatste klus voor haar te doen, waarbij de consequenties voor hem ongekend groot blijken te zijn. Hij moet een pakketje voor haar in ontvangst nemen en doorgeven, simpeler kan het toch niet?

Aria voor een verleden is geen doorsnee thriller, kent geen hoog oplopende spanningsbogen en is geen wedloop van de goeden tegen de slechten. Er ontvouwt zich daarentegen een beklemmend verhaal van onmacht met onmogelijke keuzes. Samen met Anton wacht de lezer met ingehouden adem op de ontknoping van een misdaad die langzamerhand wordt onthuld. Een briljante psychologische thriller in optima forma.

De laatste jaren worden te pas en te onpas boeken op de markt gegooid met het inmiddels bijna uitgewoonde predikaat 'literaire thriller'. Aria voor een verleden draagt deze titel met ere. Hoedje af!
ISBN: 9789022558119 Paperback, 272 blz. Uitgeverij: De Boekerij januari 2012
Vertaling: Mireille Vroege
© Joanazinha, 25 maart 2012
Lees de reacties op het foum en/of reageer, klik HIER
---