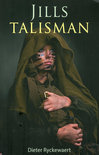 Jills talisman
Dieter Ryckewaert
Het is oorlog in de wereld. De Hellestrijders, soldaten afkomstig van het eiland Cerynea, vallen Latana aan, op zoek naar natuurlijke bronnen waaruit ze zuurkristallen kunnen halen. In Lantana zijn die er nog. De Cerynezen zijn wreed, ze doden iedereen, vernietigen alles waar ze niets mee kunnen.
In een stad in de dictatuur Lantana woont Jill, met haar ouders en broer. Zij worden betrokken bij de strijd, maar als haar ouders zien dat er geen enkele hoop meer is, dringen ze er op aan dat Jill de boot pakt, en vlucht. Zeer tegen haar zin gehoorzaamt ze, maar als ze alle verwoesting om haar heen ziet, denkt ze dat ze beter een einde kan maken aan haar leven. Wat heeft het nog voor zin? In de dictatuur wilde ze ook al niet leven toen alles goed ging, en nu, met de Hellestrijders overal?

Onderweg ziet ze een neergestorte capsule. Of het verstandig is of niet, Jill was in opleiding tot arts en misschien is er iemand in nood. Ze moet de capsule wel openen, en ontdekt een jonge man. Het is Sam, een strijder uit de Verenigde Waaklanden. Zij is opgelucht: als hun bondgenoten te hulp komen, kunnen ze misschien het land redden. Sam geeft haar als dank de hanger die hij zelf om had: haar talisman.
Het land redden blijkt echter niet zo eenvoudig, de nietsontziende Hellestrijders gaan flink tekeer, en ze kunnen eigenlijk niets anders doen dan maken dat ze het land uitkomen. Of misschien slagen ze er in Sams eenheid te vinden. Onderweg wachten hen de nodige problemen: ze redden een aantal Lataners maar die vertrouwen op de Grote Ziener en willen, op een paar na, niet met Jill en Sam mee. Jill vindt het waanzin, ze vindt de Zienersfamilie en die Grote Ziener machtswellustelingen, maar kan er niets aan doen: ze moeten verder: Sam is gebeten door de groene gifspin en zal sterven als ze niet snel het tegengif vinden...en de Cerynezen hebben nog een verrassing in petto.

Een avontuur vol actie. Er wordt gevochten en gemoord, en het tegenwicht dat de ontluikende liefde tussen Jill en Sam biedt is niet groot, al doen ze hun best.
'Fantasy', zegt de definitie, 'is een genre van fictieve verhalen, verzonnen wezens en imaginaire werelden. Bovendien spelen magie en andere bovennatuurlijke elementen veelal een belangrijke rol. Vaak lijken fantasy-verhalen zich af te spelen in een onbestemd en mythisch verleden, waarin magie en tovenarij alledaags lijken.'

Dit verhaal speelt in een fictieve wereld, en er zijn futuristische elementen. Maar is dit genoeg om het boek binnen het fantasygenre te categorizeren? Volgens de schrijver en de uitgever wel, dus dat doen we dan maar.
Dit is het debuut van Dieter Ryckewaert (1984, Poperinge).

ISBN 9789490767761 |hardcover |238 pagina's |Uitgeverij Zilverbron| september 2014
© Marjo, 25 maart 2015
Lees de reacties op het forum en/of reageer, klik HIER