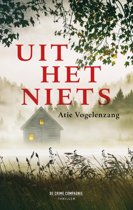 Uit het niets
Atie Vogelenzang

Atie Vogelenzang vormt samen met Wendela de Vos het duo Tupla M. (voorheen Tupla Mourits). Nadat zij in 2006 met hun in 2005 verschenen debuut Vrouwelijk Naakt de Schaduwprijs wonnen, hebben ze samen nog 6 thrillers geschreven, eerst bij uitgeverij De Arbeiderspers en sinds 2012 bij De Crime Compagnie. Uit het niets is het eerste boek van Atie Vogelenzang dat zij solo schrijft.

Hoofdpersoon is verpleegkundige Barbara die in scheiding ligt met haar veel jongere man Rafaël. Wanneer ze op een dag thuiskomt wordt ze aangevallen door een onbekende man. Barbara geeft zich niet zomaar gewonnen en vecht zodanig terug dat de man aan zijn verwondingen overlijdt en Barbara in het ziekenhuis belandt, nu als patiënt. Wie was de inbreker? Waar zocht hij naar? Het blijft gissen voor Barbara, ook wanneer ze met ziekteverlof thuis is, haar ex-collega 'grote Cora' in huis neemt en op op zoek gaat naar antwoorden.

En in een notendop is dat eigenlijk het hele verhaal. Veel meer gebeurt er niet. En wat er gebeurt wordt met één en dezelfde vlakke toon verteld. Rafaël is spoorloos, maar niemand maakt zich er echt druk om. De kat van Barbara, waar ze stapeldol op is, verdwijnt een paar dagen en wordt dan weer teruggevonden; je wordt er niet warm of koud van. Grote Cora heeft ook grote problemen, maar ook daar kabbelt het boek eigenlijk gewoon overheen. Sommige personages krijgen een rol in het verhaal, terwijl je er later niets meer over hoort, of ze duiken heel kort weer op om daarna even snel weer te verdwijnen.
Wat ontbreekt in het boek is emotie, is diepgang, is het mee kunnen leven met de karakters. Het mag allemaal wel wat pittiger en wat meer aansprekend. Atie Vogelenzang snijdt een paar indrukwekkende thema's aan in Uit het niets, waaronder dissociatieve identiteitsstoornis (DIS, een meervoudig persoonlijkheidssyndroom), drugs, scheiding, werkeloosheid, wantrouwen en angst. Maar als lezer krijg je het gevoel dat het teveel van het goede is en dat er te weinig gelegenheid is om al die thema's goed voor het voetlicht te brengen. Zeker een thema als DIS kan zoveel extra dimensie geven in een verhaal; het is ontzettend jammer dat het niet goed uitgewerkt wordt en dat de enige reactie die Barbara hanteert wanneer ze hiermee geconfronteerd wordt, is het uit de weg gaan ervan door bijvoorbeeld een andere kamer op te zoeken. Dat is dodelijk voor de impact op het verhaal; er wordt geen gebruik gemaakt van de mogelijkheden die dit thema biedt.

De schrijfstijl van de auteur is vlot, met veel korte, actieve zinnen met veel dialoog. Daardoor is het al met al toch een redelijk aangenaam boek om te lezen. Sommige acties zijn op het randje van ongeloofwaardig, maar passen weer wel bij het karakter van Barbara: aanpakken en doorzetten. Voor het overige blijven de personages vaag en komen ze niet goed uit de verf.

Als je dit boek wilt vergelijken met andere thrillers, dan kun je denken aan bijvoorbeeld de vakantiethrillers van Suzanne Vermeer of Linda van Rijn. Dat is een prima genre, lichte vakantielectuur die zorgt voor een paar aangename uurtjes aan strand of zwembad. Wat dat betreft is het jammer dat het boek pas na de zomervakantie is verschenen. Maar om ook de doorgewinterde thrillerlezer aan te spreken is meer nodig. Laat ons maar wat meer snakken naar adem!

ISBN 9789461093219 | Paperback | 275 pagina's | Uitgeverij De Crime Compagnie | september 2018
© Janneke Bouwman, 22 oktober 2018
Lees de reacties op het forum en/of reageer, klik HIER