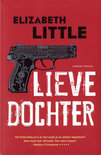 Lieve dochter
Elizabeth Little

Als Janie onverwacht vrij komt uit de gevangenis waar ze een straf uitzit wegens de moord op haar moeder, is ze vastbesloten om de waarheid te achterhalen. Ze geeft toe: ze weet niet meer precies wat er die avond gebeurd is. Ze had niet zo'n goede band met haar moeder en er was die dag nog ruzie geweest tussen hen beiden, maar zou zij echt zelf degene zijn geweest die de trekker heeft overgehaald? Soms twijfelt ze, maart vaker weet ze zeker van niet. Er was die avond iemand anders in huis. Wie was dat? De moordenaar?
Alles sprak tegen haar: ze zat onder het bloed. Onder haar moeders vingernagels trof men bloed aan met het DNA van Janie, en met haar laatste krachtsinspanningen had haar moeder haar naam met haar bloed neergeschreven, waarmee ze Janies lot bezegelde.
Met het onderzoek naar dat DNA was iets fout gegaan, waardoor nu – na tien jaar - de deur naar de vrijheid weer openstaat. Maar het is duidelijk dat niet iedereen het daar mee eens is, er is bijvoorbeeld een journalist die vastbesloten is haar weer achter slot en grendel te krijgen. Met hulp van haar advocaat weet ze een veilig heenkomen te vinden, maar ook aan hen ontsnapt ze: ze heeft een eigen agenda.

Haar doel is een dorp in South Dakota, een gehucht dat ooit welvarend was door de mijnen waarin goud en andere metalen gevonden werden. Nu is van die rijkdom niet veel meer over. De dorpsbewoners proberen wanhopig hun leven op de rail te houden door een jaarlijks terugkomend festival te organiseren, met rondleidingen en feestavonden. Het dorp wordt van oudsher geleid door vijf families, en Janie, die zich nu Rebekka noemt, die haar lange mooie haren heeft afgeknipt en rondloopt in slonzige kleren, weet dat haar moeder daar ooit deel van uit maakte. Waarom is ze daar weggegaan? Heeft haar dood te maken met haar verleden?
Bij deze speurtocht naar het verleden krijgt ze hulp,en ze vindt van alles: een foto, een oud dagboek, en mensen die haar moeder gekend hebben. Maar ze ontdekt ook dat ze deze mensen niet echt kan vertrouwen en dat er gevaar dreigt. Niet alleen die vervelende journalist zit haar op de hielen, er is nog iemand die het op haar gemunt heeft...

Heerlijk spannend verhaal dat meer een super spannende roman is dan een echte bloedstollende thriller. Dat komt waarschijnlijk doordat de hoofdpersoon meer uit de verf komt dan de personages in een doorsnee thriller. Er is wel spanning - nou en of! - maar die zit meer in de speurtocht, dan in het gevaar. Er is ook romantiek en humor, waardoor het geheel leest als een trein. En vooral: je hebt als lezer geen idee waar de schrijver heen wil, dus je moet doorlezen tot het uit is.
Het is het debuut van journalist en schrijver Elizabeth Little (St. Louis).
Haar werk verscheen onder meer in The New York Times en The Wall Street Journal. Ze schreef eerder twee non-fictieboeken. Elizabeth Little woont en werkt in Los Angeles.

ISBN 9789400505445 |paperback |336 pagina's |Uitgeverij Bruna| februari 2015
Vertaald uit het Engels door Saskia Peterzon-Kotte
© Marjo, 5 april 2015
Lees de reacties op het forum en/of reageer, klik
HIER