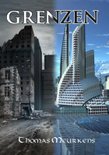 Grenzen
Thomas Meurkens

Maz heeft geluk: hij woont in zone 2 waar het leven goed is. Hij en zijn moeder beschikken over alle gemakken die de 23ste eeuw te bieden heeft. Dankzij de tor, een handig apparaat dat in zijn pols zit, hoeft Maz zich nergens zorgen om te maken. Alles wordt voor hem geregeld. Zorgen bestaan niet in zone 2. Wie met verdriet te maken krijgt, spoedt zich simpelweg naar het ziekenhuis om een transactie te ondergaan. Na een transactie is elk lichamelijk of geestelijk ongemak verdwenen. Het leven in zone 2 verloopt kalm en gelijkmatig.

Panthea, de stad waar Maz woont, is onderverdeeld in acht verschillende zones. Iedereen snakt ernaar ooit in zone 1 te wonen maar Maz boft dat hij in ieder geval in zone 2 is opgegroeid. Het leven in de andere zones is minder goed, met zone 8 als absoluut dieptepunt. Buiten Panthea bevindt zich enkel een leegte. Niemand waagt zich dan ook buiten de stadsgrenzen. Maz kan zich vrijelijk binnen Panthea verplaatsen. Inwoners kunnen zich binnen hun eigen zone en lagere zones voortbewegen. Max kan dus helemaal naar zone 8, als hij wil. Soms doet hij dat maar liever bevindt hij zich in 3.0, een virtuele wereld waar spannende avonturen te beleven zijn.

Voor Panthea ontstond beschikte iedereen over medische middelen. Ziektes werden genezen, gewonde lichamen werden opgelapt en getraumatiseerde zielen kregen psychologische hulp. Dat vond iedereen heel normaal. Tegenwoordig weten de inwoners van Panthea wel beter. Er is een vaste hoeveel pijn en leed in de wereld. Een hoeveelheid waar niet aan te tornen valt. Als er iemand genezen wordt, zal een ander ziek worden. Zo is het nu eenmaal. Elke keer dat Maz of een andere inwoner van zone 2 een transactie ondergaat, wordt de aandoening naar een inwoner van een van de andere zones, met uitzondering van zone 1 natuurlijk, overgeheveld. Maz weet dat maar hij zit er niet mee. Maz zit namelijk nergens mee. Hij woont immers in zone 2 waar zorgen niet bestaan.

De laatste transactie lijkt echter niet helemaal goed te zijn gegaan. Na het ontwaken in het ziekenhuis voelt Maz zich anders. Het is een gevoel dat hij niet herkent. Even voelt hij zich zelfs verloren. In de dagen die volgen blijft het vreemde gevoel hangen. Hij denkt zelfs aan zijn zus Melanie. Melanie was depressief maar weigerde een transactie. Maz weet nog dat hij haar een mes overhandigde en dat Melanie korte tijd later in een grote plas bloed lag. Een transactie nam de schrik weg en Maz heeft nooit om zijn zus gerouwd. Waarom denkt hij nu dan toch aan haar? En waarom denkt hij steeds aan het jongetje dat, vlak voor zijn laatste transactie, onder een trein kwam? Maz zelf kon gelukkig nog net op tijd opzij springen.

En dan botst hij tegen haar op. Een meisje met een verwilderd gezicht. Maz is op slag verliefd. Dat denkt hij tenminste. Het meisje bezorgt hem een compleet nieuw gevoel. Ze heet Mischa en ja, ze wil best eens met hem afspreken. Maz is in de zevende hemel maar bestaat verliefdheid wel in Panthea? Mischa is anders. Komt ze soms uit zone 1? Ze kijkt anders tegen Panthea aan en verschaft Maz nieuwe inzichten. Inzichten die zijn blik verruimen maar hem ook verward en zelfs angstig maken. Een transactie zou het allemaal kunnen wegnemen. Dan kan hij zijn rustige leven weer hervatten en zijn dagelijks werk als grassprietjescontroleur weer oppakken. Maar… Wil Maz dat wel?

Dit opmerkelijke science fictionverhaal is tijdens een eindeloze busrit door Mexico ontstaan. Om de verveling te verdrijven, verzon backpacker Thomas Meurkens een fantasiewereld. Zijn gemijmer groeide uit tot een volledig verhaal. Een verhaal waarin Maz in een aantal ongewone situaties belandt. Hoe speelt het menselijk brein op zulke grote veranderingen in?

Grenzen is een debuut. Het verhaal komt wat houterig op gang. De auteur ziet Panthea waarschijnlijk levensecht voor zich, maar de lezer heeft tijd nodig om zich de nieuwe wereld eigen te maken. Wat volgt is een verhaal dat steeds meer verrast. Alsof Thomas Meurkens in de loop van het boek helemaal in zijn nieuwe rol als schrijver groeit. Het verhaal en de personages krijgen steeds meer diepgang. Panthea krijgt meer vorm. Naarmate het verhaal vorderde, nam mijn interesse toe. Thomas Meurkens is nog jong, een twintiger, en ik ben heel benieuwd hoe hij zich verder als schrijver zal gaan ontwikkelen. Grenzen is een veelbelovend debuut.

ISBN 9789078437307| paperback | 318 pagina's| Uitgeverij Macc | april 2016
© Annemarie, 16 april 2016
Lees de reacties op het forum en/of reageer, klik HIER