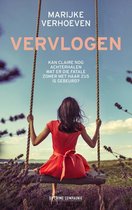 Vervlogen
Marijke Verhoeven

Dertig jaar geleden is de zes jaar oudere zus van Claire spoorloos verdwenen. Op een avond kwam ze niet terug van haar stiekeme uitstapje. Hoewel het gezin al geen hoogstaand voorbeeld voor andere gezinnen was, zal Claire zich altijd af blijven vragen of haar ouders bij elkaar gebleven zouden zijn als Eleanor niet verdwenen was. Nu staat het gezin zo onder druk dat het uit elkaar valt. De moeder verdwijnt naar Amerika met een andere – rijke – man, haar echtgenoot ontredderd met de overgebleven dochter achterlatend.

Haar vader heeft last van migraine aanvallen, en is bovendien niet in staat het verleden los te laten. Ieder jaar opnieuw gaan ze met vakantie naar Epen, de plek waar ze ook voor de verdwijning van Eleanor al ieder jaar heengingen. Claire en haar vader logeren dan in hetzelfde hotel, deden precies dezelfde dingen als toen.
Was Claire dan wèl in staat een eigen leven op te bouwen, ongeacht haar verleden? Dat dus ook niet. Relaties mislukken, haar psycholoog vertelt haar dat ze bindingsangst heeft.

Als ze een telefoontje krijgt van de jongen, die in de zomer dat Eleanor verdween ook in Epen was, met de mededeling dat hij een raadselachtig briefje gevonden heeft, dat voor Claire bedoeld is: 'Bid voor ons zondaars, nu en in het uur van onze dood', kan Claire niet anders dan naar Epen gaan, en haar intrek nemen in hetzelfde hotel.
De herinneringen komen terug, en Claire probeert mensen te spreken te krijgen die er toen ook waren. Die jongen dus, Kasper, die nu zijn zussen helpt met het opzetten van een B&B in de omgeving, de nu gepensioneerde rechercheur en de mensen die dertig jaar eerder tot het vriendenclubje van Eleanor behoorden.

Soms lijkt Claire nogal naïef bezig, ze brengt zichzelf in gevaar. Alsof ze vergeet dat niemand een idee heeft wat haar zus overkomen is. Natuurlijk: het zou zomaar kunnen dat ze een succesvolle wegloop heeft ondernomen, maar eigenlijk weet ze wel beter. En er gebeuren vreemde dingen. Het brengt haar aan het twijfelen: heeft ze dan misschien toch last van die psychose?

'Ja, het was juist dat Eleanors vermissing mij had gevormd. En het klopte dat ik er psychische schade van had opgelopen. Ik had medicijnen voorgeschreven gekregen om mezelf mee onder controle te houden toen ik volwassen was geworden, toen de demonen uit mijn jeugd me 's nachts inhaalden en ik weer bang was geworden, me alleen voelde en niet op mezelf durfde te vertrouwen. Maar ik was niet gek!'

Behalve naïef en daardoor roekeloos is Claire sowieso labiel. Ze drinkt te veel, en heeft inderdaad nauwelijks vertrouwen in de mensen om haar heen. Of ze vertrouwt de verkeerde. Al met al voldoende gegevens voor een spannende misdaadroman waar de romantiek niet in ontbreekt.

De intrigerende proloog heeft je al meteen te pakken. Wat gebeurt daar precies? Wat betekent het voor het verhaal dat je gaat lezen? Het duurt even voor dat een plaats krijgt, maar waarschijnlijk duurt dat in de tijd gezien niet lang, want het boek is zo spannend dat je door lezen wil.
Heden en verleden vormen twee verhalen die langzaam naar elkaar toe groeien tot de apotheose. Dan volgt nog een korte epiloog om het geheel af te ronden.
Heerlijk boek!

De Groningse Marijke Verhoeven (1967) debuteerde in 2012 met de thriller Onder invloed. Daarna volgden diverse thrillers met zowel erotiek, romantiek als fantasy.

ISBN 9789461095220 | Paperback | 300 pagina's | Uitgeverij The Crime Compagnie| juli 2021
© Marjo, 26 september 2021
Lees de reacties op het forum en/of reageer, klik HIER