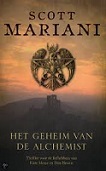 Het geheim van de alchemist
Scott Mariani
Op de cover staat: Thriller voor de liefhebbers van Kate Mosse en Dan Brown. Dat was voor mij de trigger om dit boek te gaan lezen omdat ik de boeken van Mosse en Brown zowel qua plot als qua onderwerp ontzettend goed vindt. Scott Mariani borduurt voort op de hype van dit soort boeken waarin een persoon of voorwerp uit de oudheid voor spannende zoektochten in de huidige tijd zorgen.

In het geval van Het geheim van de alchemist gaat het om een manuscript van ene Fulcanelli. Fulcanelli was een meester-alchemist waarvan wordt vermoed dat hij het recept voor het levenselixer heeft gevonden waar alchemisten al eeuwenlang naar op zoek zijn. Maar: zowel Fulcanelli als zijn manuscript waarin het recept zou staan zijn in het begin van de 20ste eeuw verdwenen. Ben Hope is een voormalig SAS-agent met een getroubleerd verleden en hij wordt door Fairfax, een rijke zakenman, ingehuurd om het manuscript te vinden, zodat Fairfax's enigste kleindochter Ruth – die stervende is – door het levenselixer kan worden genezen.
Tijdens zijn speurtocht ontmoet Ben onder andere Roberta Ryder, een Amerikaanse wetenschapper die haar baan en aanzien is verloren omdat zij zich met alchemie bezighield. Samen zoeken zij zich langzaam maar zeker een weg door de aanwijzingen heen. Ze dringen steeds dieper in het mysterie en komen uit bij de Katharen.

De invalshoek van het boek is interessant, zeker wanneer je in de geschiedenis van de (katholieke) kerk geïnteresseerd bent. De geschiedenis van de Katharen is al onderwerp van menige thriller geweest, mede omdat er zoveel geheimzinnigheid zweeft rond deze groep gelovigen. Zij leefden voornamelijk in het zuiden van Frankrijk. In de 13e eeuw werden zij in bloedige kruistochten vervolgd en uitgeroeid. Eén van de middelen die de Katholieke Kerk hierbij inzette was de Inquisitie, die speciaal voor de vervolging van de Katharen is opgericht (Bron: Wikipedia). Wanneer de Inquisitie zich ook gaat bemoeiten met het manuscript van Fulcanelli volgen de moorden elkaar in rap tempo op.

Het taalgebruik van het boek komt gewild populair over. Van een serieuze wetenschapper als Roberta Ryder verwacht je niet dat ze zegt: Ik zal ze een poepie laten ruiken (blz. 61). Ik weet niet of dit aan de oorspronkelijke taal of aan de vertaler ligt, maar zo'n 'downgrading' qua taal is zeer storend en past mijn inziens niet bij dit soort boeken. Verder stoorde mij het joviale gebruik van voornamen waar dat niet natuurlijk overkwam, zoals bij pastoor Pascal Cambriel die enkele malen alleen met de naam Pascal aangeduid wordt. Het voelt niet natuurlijk aan. Dit, afgezet tegen het onderwerp van het boek, maakt het verhaal ongeloofwaardig. Daarnaast vond ik dat Ben Hope een aantal keren wel erg gemakkelijk oplossingen vond voor ingewikkelde puzzelstukje. Er zat naar mijn gevoel geen goed uitgewerkte strategie achter.

Het schijnt dat de filmrechten van het boek al zijn verkocht. En dat kan ik me goed voorstellen: de vele actiemomenten – vechtpartijen, achtervolgingen per auto, etc. – zijn filmisch beschreven. Je ziet de scène's zo voor je! Voor voor een lezer is dat leuk, maar niet voldoende; die wil in het verhaal gezogen worden, wil één zijn met de hoofdpersonen. En dat gebeurt helaas niet.


ISBN: 9789026126680 Uitgeverij: De Fontein maart 2010 Paperback, 371 blz.
Vertaling: Pieter Janssens
© Joanazinha, april 2010
Lees de reacties op het forum en/of reageer, klik HIER