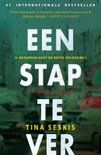 Een stap te ver
Tina Seskis

Ze heeft haar vertrek zorgvuldig gepland en niets aan het toeval overgelaten. Toch vindt Emily Coleman het moeilijk haar tranen te bedwingen. Haar oude leven is voorgoed voorbij. Alleen een compleet nieuwe start kan haar nog redden. Een nieuw leven zonder haar gezin, zonder haar ouders en zonder haar tweelingzus Caroline. De trein waarin ze is gestapt, zal haar naar Londen voeren. In de grote stad zal ze haar oude identiteit van zich afschudden. Emily Coleman wordt Cat Brown.

Nog maar een paar maanden geleden was Emily een gelukkige vrouw. Haar echtgenoot Ben was haar grote liefde. Hun prachtige zoon maakte hun geluk compleet. Emily genoot met volle teugen van het moederschap en het feit dat er opnieuw een wondertje in haar buik groeide, deed haar soms duizelen van geluk. Dat alles is nu voorbij. Terwijl de trein voortraast, probeert ze zo min mogelijk aan het gezin dat ze zojuist heeft verlaten te denken. Ben zal radeloos zijn wanneer hij ontdekt dat ze is verdwenen. En Charlie, ach de kleine Charlie zal het al helemaal niet begrijpen.

In Londen begint Emily helemaal opnieuw. Ze huurt een kamer in een groezelig huis. Haar medehuurders vormen een gemêleerd gezelschap. De anonimiteit van haar nieuwe bestaan, voelt als een warm bad. Niemand weet wie ze is. Niemand weet wat er is gebeurd. In de blikken die op haar rusten, leest ze geen medelijden of een oordeel. Niemand kent haar. Het voelt bevrijdend. Emily weet een nieuwe baan te bemachtigen. Niet als advocaat, wat ze jaren is geweest, maar als receptioniste bij een reclamebureau.

Haar nieuwe leven voelt vooralsnog als een net iets te kleine jas. Emily voelt zich opgelaten tussen de hippe reclamemensen. Zal ze door de mand vallen? Met behulp van haar nieuwe vriendin Angel, past ze haar kledingstijl aan. Stukje bij beetje verandert Emily in een compleet ander mens. Het doet haar goed. Toch lukt het haar maar niet haar verleden volledig uit haar gedachten te verbannen. Gelukkig is Angel altijd bereid haar te helpen. Emily doet dingen die ze nooit voor mogelijk had gehouden. Ze is nu immers Cat, een vrouw van de wereld. Huisvrouw Emily bestaat niet meer.

Ruim dertig jaar voor Emily haar gezin de rug toekeerde, beviel Frances Brown van niet één maar twee dochters. De komst van het tweede meisje overviel haar. Ze had zich de maanden voor de bevalling goed op de komst van haar kind voorbereid, vastbesloten een goede moeder te worden. Het tweede kind was niet gepland. Niet gewenst ook. In de jaren die volgden probeerde Frances zich zo goed mogelijk van haar taak te kwijten. Ook het tweede meisje, dat zoveel schrieler was dan de blakend gezonde eerstgeborene, verdiende haar liefde. Dat ze meer van Emily hield, zou ze nooit aan Caroline laten merken.

Caroline merkte het wél. Het kleine meisje voelde haarfijn aan dat haar moeder meer van Emily hield. Was Caroline daarom zo'n moeilijk kind? Kreeg ze daarom als tiener anorexia en groeide ze daarom uit tot een onhebbelijke volwassene? Ook al waren ze een eeneiige tweeling, Emily en Caroline konden niet goed met elkaar overweg. Dat Emily gelukkig was met haar gezin, was dan ook een doorn in het oog van haar tweelingzus.

Een stap te ver is het meeslepende debuut van Tina Seskis, die jarenlang in de reclamewereld werkzaam was. Aanvankelijk gaf ze het boek in eigen beheer uit. Binnen een jaar verkocht ze 100.000 e-books en 10.000 boeken. Ze werd door een grote uitgever opgemerkt en nu wordt haar boek in maar liefst 18 landen uitgebracht. Wie dit boek leest, begrijpt heel goed waarom. Het is een vrijwel vlekkeloos debuut, op de verhaallijn over Angel na. Die verhaallijn is minder mooi uitgewerkt. Hoewel het volledige verhaal vanuit meerdere perspectieven wordt verteld en de auteur gedurfd met de tijd speelt, is alles uitstekend te volgen.

Het verhaal in Een stap te ver draait om de gebeurtenis die het leven van Emily voorgoed veranderde. Is haar iets overkomen of heeft ze zelf iets onvergefelijks gedaan? De lezer kan uit de gedragingen van Emily enkel opmaken dat er iets vreselijks is gebeurd. Ze houdt nog altijd zielsveel van haar gezin. Waarom is ze toch weggegaan? De verhaalstijl van Tina Seskis doet denken aan die van de eveneens Britse auteur Elizabeth Haynes. Persoonlijk en indringend. Ik ben ervan overtuigd dat dit intense verhaal het begin van een glansrijke schrijverscarrière vormt.

ISBN 9789400504998 | paperback | 342 pagina's | A.W. Bruna Uitgevers | juli 2016
Vertaald door Willem van Paassen en Catalien van Paassen
© Annemarie, 6 juli 2016
Lees de reacties op het forum en/of reageer, klik HIER