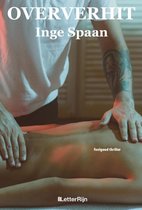 Oververhit
Inge Spaan


Jolijn, bijna dertig, heeft een relatie met een getrouwde man. Bastiaan heeft beloofd dat hij zijn vrouw snel zal inlichten dat hij wil scheiden en dan zal hij er helemaal zijn voor Jolijn.
Marith, goede vriendin van Jolijn, twijfelt er sterk aan dat Bastiaan gaat doen wat hij belooft, vooral als ze bepaalde dingen ziet die niet in het plaatje passen dat Bastiaan zijn minnares voorspiegelt. Maar ze steunt haar vriendin door dik en dun, ook als die niet wil geloven wat haar verteld wordt.

Die steun is hard nodig, want er gebeuren vreemde dingen: als Jolijn in het ziekenhuis ligt te herstellen van een kruisbandoperatie, vindt Marith haar comateus in bed. Wat daar gebeurd is wordt alleen maar duidelijk voor de lezer.
Dreigbrieven, mannen die zich verdacht gedragen in haar buurt, een lekke band, een eigenaardig pakketje, wie heeft er zo'n hekel aan Jolijn? Zij heeft geen idee wie die onbekende is. Ze verdenkt Suzanne, de vrouw van Bastiaan. Maar hij beweert dat zij van niets weet. Maar of die echt zo argeloos is en al haar mans smoesjes gelooft? Jolijn wil geen politie inschakelen, ze probeert er zelf achter te komen wie haar bedreigt. Niet zo'n verstandige zet…

'Ze loopt de tuin in, sluit de deur achter zich en staat een tijdje stil. Dit is het dus. Hier zitten ze op een zomerse zondag samen gezellig een ontbijtje te eten. Jolijn slikt. Hoewel ze het natuurlijk gewoon al wel wist, wordt het nu wel erg concreet.
Tussen de twee luie stoelen in de hoek van het terras staat een klein tafeltje met lege glazen en een schaaltje. Jolijn schuift de mand onder het tafeltje naar voren om te kijken wat er in zit. Ze bladert door de stapel tijdschriften en schrikt van een plotselinge knal. 'Shit' sist ze.'

De verhaallijnen van deze thriller zitten uitstekend in elkaar. Er staat boven de hoofdstukken vermeld wie de verteller is, en daarbij valt op dat er ook hoofdstukken zijn waar niets boven staat. In de tekst die daar bij hoort lezen we de dingen waarvan de personages niet op de hoogte zijn. Voorlopig toch niet.
Het werkt spanningverhogend want we hebben geen idee wie de schrijver van deze stukjes is, en wat het doel is. Gaandeweg krijgen we wel vermoedens, maar of dat allemaal klopt?

De situatie is nogal eens oververhit, Jolijn kan nogal ondoordacht uit de hoek komen, wat haar metgezellen niet bevalt. En er is een grote rol weggelegd voor de sauna, waar je ook makkelijk oververhit kan raken.

Inge Spaan (1980) is accountant, maar behalve rekenen kan ze ook schrijven, getuige dit debuut.
Het genre valt in de categorie waar je ook de boeken van Suzanne Vermeer en Jet van Vuren vindt: lekkere spannende wegleesthrillers.

ISBN 9789491875977 | paperback | 240 pagina's | Uitgeverij Letterrijn | juni 2020
© Marjo, 30 augustus 2020

Lees de reacties op het forum en/of reageer, klik HIER