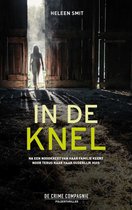 In de knel
Heleen Smit

Noor Aalbers heeft een succesvolle carrière in de reclamewereld, met fijne collega's en ze woont samen met Ferry. Dit alles in Amsterdam waar ze nu al zo lang woont dat ze zich er thuis voelt. Terugkeren naar de Achterhoek, waar ze op een boerderij geboren en getogen is? Geen denken aan. Ze is er zelfs al jaren niet meer op bezoek geweest.

En dan komt er een telefoontje. Van haar oma. En die zou niet bellen - of in dit geval een bericht inspreken - als er niet echt iets aan de hand was. Noor belt terug. Als haar oma haar dringend vraagt te komen, er is iets met opa zegt ze, vertrekt Noor de volgende dag naar de andere kant van het land. Wat zal ze daar aantreffen?

Haar opa blijkt in orde. De boerderij evenwel niet. Het is een chaos. Haar vader is verdwenen, haar moeder is ziek, en haar broer Robbie, die kan het allemaal niet aan. Haar grootouders zijn op leeftijd, ze doen hun best, maar al die koeien melken, het land bewerken, dat is te veel voor ze.
Er blijken duistere zaakjes te spelen. Waarom is haar vader verdwenen? Hij is wel vaker een paar dagen weg, zegt oma. Dat vindt Noor al vreemd, en dat hij nu niet terugkomt. Er moet iets aan de hand zijn, haar vader zou niet de boerderij, zijn koeien in de steek laten!
En haar moeder, zit ze aan de alcohol, of is er meer aan de hand? Eigenlijk is haar moeder er ook debet aan dat Noor vertrokken is en nooit teruggekomen. Ook nu wil ze niet dat Noor zich ermee bemoeit, ze houdt zelfs een geweer gericht op Noor!

Het is een vreselijk dilemma. Als ze haar eigen leven oppakt, kan ze promotie maken, en misschien ook de relatie met Ferry redden. Maar kan ze de boerderij, haar grootouders, de dieren aan hun lot overlaten?
En dan is er ook nog die jongen waar ze vroeger mee op school zat, toen toch een minkukel. Maar nu is hij een grote sterke, en knappe, man! Noor valt meteen voor hem. Weer een dilemma: ze heeft tenslotte een relatie, al gaat het daar niet zo goed mee. En Jim is getrouwd.

Jim en zijn vrouw Esther blijken een rots in de branding te zijn, als de problemen danig uit de hand dreigen te lopen. Noor doet een vreselijke ontdekking, met als gevolg dat ze er tot over haar nek in komt te zitten.

Deze thriller heeft een bijzonder thema: de problemen waar een melkveebedrijf van niet al te grote omvang in deze tijd mee te maken krijgt door de maatregelen van de overheid, en hoe ongure lieden daar denken een slaatje uit te kunnen slaan. De spiraal waar een eerlijk man in terecht komt, hoe komt je daar uit?

Het verhaal is verdeeld in twee verhaallijnen. Er is het heden, het verhaal van Noor. Met haar eigen sores, rond Ferry en Jim, de mannen die haar gevoelsleven overhoop zetten.
En er is het verhaal dat een jaar eerder speelt, cursief gedrukt. Dat is het relaas van de vader van Noor, met alle gebeurtenissen die hem zijn overkomen.
En dan bemoeilijkt de toestand met haar moeder de zaak nog.
Als die verhalen samenvallen denk je te weten wat er precies gebeurd is en waar de vader zich bevindt. Maar niets is minder waar.
Heleen Smit heeft een bijzondere plotwending achter de hand die je absoluut niet ziet aankomen.

Is de thematiek realistisch, de thrillerplot hopelijk niet! Maar overtuigend is het zeker wel.
Heleen Smit heeft een haast filmische stijl, en zet ook de karakters stevig neer. Een thriller die geen moment verveelt. Integendeel, je wil het boek niet wegleggen.

Heleen Smit (Ede, 1983) studeerde journalistiek en is redacteur bij een nieuwswebsite voor de food- en agribusiness. Ze woont in Doetinchem met haar vriend en twee honden. Op het verkeerde moment was haar debuut.

ISBN 9789461094742 | Paperback | 300 pagina's | Uitgeverij Crime Compagnie | april 2021
© Marjo, 30 mei 2021
Lees de reacties op het forum en/of reageer, klik HIER