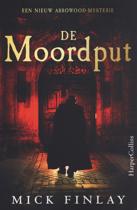 De moordput
Een Arrowood-mysterie
Mick Finlay


Of dat klopt weten we niet, maar William Arrowood is er in ieder geval van overtuigd: hij is een betere speurder dan die blaaskaak van een Sherlock Holmes! Hij kan zich er vreselijk over opwinden dat de kranten lovend schrijven over Holmes, terwijl ze zijn persoontje ofwel negeren ofwel beschimpen. Maar hij, Arrowood, werkt in het armere Zuid-Londen, en hij accepteert de minder goedbetaalde zaken, in tegenstelling tot de geroemde Holmes. En vaak zijn die zaken veel lastiger op te lossen, en zijn ze ook gevaarlijk.
Net als bij Holmes, is het zijn assistent, Barnett die het verhaal vertelt.

Het echtpaar Barclay benadert de detective: Ze hebben hun dochter al ruim een half jaar niet meer gezien, ze reageert ook niet op brieven. Ze vermoeden dat Birdie gevangen gehouden wordt door haar man en zijn familie, op een buiten Londen gelegen boerderij. Daar zijn ze aan de deur geweest, maar de bewoners beweren dat Birdie hen niet wil zien! Een complicatie is dat Birdie niet helemaal 100% is, maar toch: meneer en mevrouw Barclay willen van haar zelf horen dat ze niet terug wil komen. De opdracht luidt: zorg er voor dat we haar kunnen zien en spreken.

'Misschien is het niets, maar ik zou me als ouder zorgen maken. Een zwakzinnige jonge vrouw wordt belet haar familie te zien. Een gewelddadige echtgenoot!' Hij likte zijn vingers af en veegde ze schoon aan zijn broekspijpen. 'De arme Birdie zou weleens in grote moeilijkheden kunnen zitten. Het probleem is alleen dat ik niet goed weet wat we eraan kunnen doen.'

Natuurlijk beginnen de detectives met een bezoek aan de boerderij. En ook zij krijgen geen toegang tot het meisje. Ze zien haar evenwel voor het raam staan, ze zwaait met een veer, en bij een volgend bezoek met een afbeelding uit een tijdschrift. Maar wat dat betekent, begrijpen de mannen niet. Dat er meer achter zit, dat begrijpen ze wel! Ze proberen de politie erbij te halen, die hen eerder tegenwerkt dan hulp biedt. En als ze de ouders opnieuw bezoeken, krijgt Arrowood bevestiging van zijn twijfels: zij spreken niet de waarheid. Als er vervolgens een vrouw verdwijnt die vlak bij de boerderij woont en alles wijst op moord, verandert deze ogenschijnlijk eenvoudige zaak in een zeer complex moordonderzoek. Wat is er allemaal aan de hand op die boerderij?

Deze detective die speelt aan het einde van de negentoende eeuw draait zijn hand er niet voor om als hij vindt dat er voor anderen akelige praktijken nodig zijn om de waarheid boven tafel te krijgen. Daarbij ontziet hij zijn assistent niet! Maar eerlijk gezegd: zichzelf ook niet.
Het is een smerig zaakje, waarvan mensen als Birdie die niet helemaal volwaardig zijn de dupe zijn. Arrowood ontdekt al snel dat ook haar echtgenoot niet helemaal in orde is, en er zijn nog meer werknemers die men idioot of zwakzinnig noemt.

In een kort voorwoord en een langere epiloog over de historische achtergrond wordt uitgelegd hoe men eind negentiende eeuw omging met deze mensen. 'Ze voelen geen pijn.' zegt een van de personages. Langdon Down, de man die beschreef hoe mensen met het syndroom van Down een specifiek uiterlijk kunnen hebben wordt ten tonele gevoerd. Er gebeurden vreselijke dingen met mensen die niet voor zichzelf op kunnen komen, wat uit dit verhaal duidelijk naar voren komt. De historische context is prima, maar de sfeertekening kon beter. Ook al is er regelmatig sprake van mist en andere vochtigheid, die wordt niet beeldend genoeg beschreven.

Het geheel leest best lekker weg, maar een topper is het niet.
Er was een eerder boek over deze detective, en daar wordt ook naar verwezen, maar voor de zaak op zich is het niet erg als je dat eerdere verhaal niet kent.

Mick Finlay (Glasgow) verdeelt zijn tijd over Brighton en Cambridge. Hij doet regelmatig onderzoek op het gebied van menselijk gedrag.

ISBN 9789402702644 | Paperback | 448 pagina's | Uitgeverij HarperCollins | maart 2019
Vertaald uit het Engels door Ruud van de Plassche

© Marjo, 12 juli 2019

Lees de reactie op het forum en/of reageer. Klik HIER