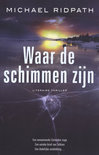 Waar de schimmen zijn
Michael Ridpath


Mordor, waar de schimmen zijn...
Voor de liefhebbers meteen duidelijk: dit boek heeft te maken met Tolkien, met In de ban van de ring. Al zullen ook niet Tolkienfans dit boek ook kunnen waarderen, het is wel een pre als je meer over diens boeken en de films naar aanleiding daarvan weet.

Magnus Jonson is rechercheur in Boston. Hij ontdekt dat een collega omgekocht wordt door een Dominicaanse bende, die zich bezig houdt met drugshandel. Omdat hij een belangrijke getuige is heeft die bende al een paar pogingen gedaan hem uit te weg te ruimen. Zonder getuigenis van Magnus is er geen zaak, dus vindt zijn hoofdinspecteur dat hij beschermd moet worden. Toevallig is er in New York gevraagd om assistentie bij een moordzaak op IJsland en: Magnus is IJslander is van origine. Magnus reist af naar zijn geboorteland. Vanaf dat moment noemt hij zich naar IJslands gebruik Magnus Ragnarsson. De reis brengt zijn verleden weer boven, hij is niet vrijwillig en zonder problemen uit IJsland vertrokken. Bovendien laat hij zijn vriendin Colby achter. Hun relatie liet de laatste tijd wel te wensen over, maar hij weet dat ze nu in gevaar verkeert. Hij wilde dat ze meeging, hij was zelfs bereid er voor te trouwen, terwijl hij wist dat ze de ware niet was. Colby had hem door en bleef thuis.
Hij is natuurlijk niet zo welkom op het IJslandse politiebureau. Hij wordt gezien als een indringer, zelfs al spreekt hij de taal.
Het onderzoek waar hij zich mee bezig moet houden, draait om IJslandse saga's. Speciaal de sage waarop Tolkien zijn verhaal over de Midden-Wereld gebaseerd zou hebben. En om de Ring. (Voor degenen die daar niet bekend mee zijn, wordt er kort verteld wat je moet weten om dit verhaal te kunnen volgen.) Tolkienadepten blijken veel geld voor over te hebben voor het originele manuscript van de saga, en natuurlijk ook voor die ring als het echt bestaat. Iemand heeft zelfs een of meer moorden voor gepleegd. Intussen blijft ook de Dominicaanse bende op zoek en maakt Magnus een domme fout.

Wat deze thriller zo bijzonder maakt is de achtergrondinformatie over IJsland zelf. Er bevindt zich een plattegrond voorin, de sagen worden inhoudelijk besproken met allerlei extra informatie. Er wordt van alles verteld over IJslandse gebruiken: rondom de naamgeving, over het dagelijkse leven, maar ook over de mysterieuze en onherbergzame natuur, die zoals hier beschreven goed de achtergrond van Frodo's avonturen geweest kan zijn. Over de omgeving van de vulkaan Hekla (onlangs nog actueel, zij het niet deze), dat zomaar het landschap van Mordor zou kunnen zijn, het land waar de schimmen zijn.
Behalve de zoektocht naar de ring en het oude manuscript, door verschillende partijen, is er ook sprake van een persoonlijke zoektocht. Magnus weet niet meer waar zijn thuis is: Boston of toch IJsland? Moet hij terug naar Colby of valt hij toch voor Ingileif?
Spannend vanwege de plot, boeiend en apart vanwege de achtergrond: Tolkien en IJslandse cultuur.
Meeslepend, want goed geschreven.
Isbn 978 90 261 2760 1 Paperback 335 pagina's | Fontein | mei 2010
'Where the shadows lie' Vertaald door Gert-Jan Kramer

Marjo, juni 2010
Lees de reactie sop het forum en/of reageer, klik HIER