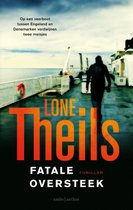 Fatale oversteek
Lone Theils

In een propvol winkeltje in het Britse kustplaatsje Brine, stuit de Deense journaliste Nora Sand op een oude koffer. Hoewel haar goede vriend Pete er niet in slaagt een diepe zucht te onderdrukken, koopt Nora het versleten ding. Het zal prachtig bij haar scheepskist, ook al zo'n decoratief pronkstuk, staan. Wel moet ze nog achterhalen hoe de koffer opengaat. Het slotmechanisme verkeert in een niet al te beste staat. Tevreden sleept ze de koffer mee naar haar appartement in Londen.

De volgende ochtend lost Nora met haar eigen klungeligheid het probleem van de gesloten koffer op. Ze is vergeten dat ze haar nieuwe aanwinst slordig midden in de gang had geparkeerd. Op weg naar de badkamer struikelt ze dan ook over het gevaarte, waardoor de koffer openspringt. Er vallen een aantal poloraidfoto's uit. Nieuwgierig pakt Nora, die als buitenlandcorrespondente voor het Deense weekblad Globalt werkt, het stapeltje foto's op.

Er staan louter meisjes op de foto's. Tienermeisjes. Meisjes die verleidelijk, brutaal of juist verlegen in de lens van de camera kijken. De foto's zijn al enige tijd geleden genomen, dat ziet Nora meteen aan de gedateerde kleding en kapsels. Ze vermoedt dat het om de jaren tachtig en negentig moet gaan. Een van de foto's trekt haar aandacht. Het is de enige foto waarop twee meisjes staan. Het zijn niet de meisjes, maar de tekst achter hen, die Nora is opgevallen. De tekst is in het Deens geschreven en geeft aan dat de meisjes in kwestie zich op "Wagendek 2" bevinden. De meisjes reizen overduidelijk per veerboot.

Diep in Nora's onderbewustzijn gaat een alarmbel af. Zou ze de meisjes ergens van moeten kennen? Pas als Nora de foto's aan Andreas, een jeugdvriend, laat zien, beseft ze wie de meisjes zijn. Het zijn Lisbeth en Lulu, twee tienermeisjes die in 1985 spoorloos zijn verdwenen tijdens een bootreis van Denemarken naar Engeland. Heeft Nora de laatste foto die ooit van de meisjes is gemaakt in handen?

Nora is altijd op zoek naar boeiende onderwerpen om over te schrijven. Nu ze een foto van Lisbeth en Lulu heeft gevonden, besluit ze de verdwijning van de meisjes nader te onderzoeken. Hoe kan het dat ze na twintig jaar nog altijd niet zijn gevonden? Nora reist heen en weer tussen Denemarken en Engeland om met alle betrokkenen te praten. Wanneer ze de oude koffer nog eens grondig inspecteert, stuit ze op een naam die op de zijkant van de koffer staat gekrabbeld. In zilverkleurige letters licht de naam B. Hix op. Nora weet onmiddellijk om wie het gaat. B. Hix is een afkorting van William Hickley, een van de ergste seriemoordenaars die Engeland ooit heeft gekend.

Dat Nora de foto van Lisbeth en Lulu in een koffer van William Hickley heeft aangetroffen, voorspelt weinig goeds. Het betekent bovendien dat de kans groot is dat ook de andere meisjes op de foto's in handen van de moordenaar zijn gevallen. Hickley zelf zit een levenslange gevangenisstraf uit. Hij liep tegen de lamp toen bij een verkeerscontrole een lijk in zijn kofferbak werd aangetroffen. Waar heeft hij de lichamen van zijn andere slachtoffers gelaten? Waar zijn Lisbeth en Lulu? Zal Nora het aandurven om bij William Hickley op "visite" te gaan? Ze vreest dat het de enige manier is om de waarheid boven tafel te krijgen.

Fatale oversteek is het debuut van journaliste Lone Theils die al zestien jaar in Londen als buitenlandcorrespondent voor het Deense dagblad Politiken werkt. Lone Theils heeft, heel slim, voor een personage gekozen dat een leven leidt waarin ze zich goed in kan leven. Ze weet precies hoe je een gedegen journalistiek onderzoek uitvoert en hoe de kleinste onthulling tot een grote stap voorwaarts kan leiden.

Lone Theils heeft zich overduidelijk met hart en ziel op het schrijven van haar eerste thriller gestort. Het verhaal is dan ook spannend en meeslepend. De schrijfster is echter iets te enthousiast geweest. Er gebeurt namelijk wel erg veel in dit boek en uiteindelijk heeft dat nadelige gevolgen voor de geloofwaardigheid van het verhaal. Het is alsof de auteur alle verhaalideeën die de afgelopen jaren in haar zijn opgeborreld, in dit ene boek heeft willen verwerken. Er zullen meer boeken over Nora Sand volgen en ik ben dan ook heel benieuwd of het de schrijfster zal lukken de verhalen in haar volgende boeken wat kleiner te houden. Nora Sand is een nieuwsgierige dame met pit en ik wil absoluut meer over haar lezen.

ISBN 9789026334924 | paperback | 350 pagina's | Ambo|Anthos | augustus 2016
Vertaald door Ingrid Hilwerda en Femke Blekkingh-Muller
© Annemarie, 13 oktober 2016
Lees de reacties op het forum en/of reageer, klik HIER