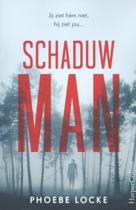 Schaduwman
Phoebe Locke

'Het verhaal van de familie Banner is geen sensationeel verhaal over een bloederige moord. Het gaat over verdriet, schuldgevoelens en verschrikkelijke geheimen die jarenlang verborgen bleven in de harten van niet één, maar twee families.'

Twee jongere meisjes, Sadie en Helen, stuiten in het bos op Helen, de twaalfjarige zus van Marie, en twee vriendinnen. Die zitten te praten over De Lange Man. Ze maken de jongere meisjes bang met een verhaal over een Schaduw. Ze moeten trouw beloven aan de Lange Man en cadeautjes voor hem neerleggen. Maar is het alleen maar een spookverhaal? Of schuilt hier een waarheid in?

Tien jaar later lopen de zwangere Sadie en haar vriend Miles op een festivalterrein waar Miles ziet dat zijn vriendin vreemd doet.

'Sadie zei iets tegen degene bij wie ze stond, maar plotseling zag hij angst op haar gezicht. Geschrokken zag hij dat ze achteruitliep bij de schaduw vandaan, met een hand beschermend tegen haar buik geklemd.'

Ze wil er niet over praten, maar als zij na de geboorte van hun dochter Amber ineens verdwijnt vraagt hij zich af wat daar aan de hand geweest is.
Zo goed en kwaad als het gaat voedt hij Amber in zijn eentje op. Alles lijkt goed te gaan. Tot de dag, weer zestien jaar later, dat Sadie ineens weer voor de deur staat. Natuurlijk kunnen ze niet zomaar weer de draad oppakken. Sadie doet nog steeds vreemd, en vertelt niet over waar ze al die tijd geweest is. En waarom zou Amber haar ineens als moeder accepteren?

Sadie krijgt hulp uit onverwachte hoek. Er is een nieuw meisje in de klas gekomen bij Amber, en de twee meisjes lijken goed bevriend te raken. Als de moeder van deze Billie toenadering zoekt tot Sadie, ziet deze dat als een ingang om weer een normaal leven te kunnen leiden.Maar normaal is Sadie niet. Dat ontdekt Miles al gauw. Ze hoort stemmen die ze als kind ook al hoorde.

In het heden, 2018, wordt Amber langdurig geïnterviewd voor een true-crimeserie. De producer hoopt dat Amber zal vertellen over haar kant van de zaak, over de gebeurtenissen die geleid hebben tot de rechtszaak, waarbij Amber beschuldigd werd van moord.

Al deze verhaallijnen wijzen op een warrig verhaal en dat is het dan ook: een raadselachtig verhaal waar de lezer zijn aandacht bij moet houden, omdat er steeds in de tijd gesprongen wordt. Ear staan gelukkig wel jaartallen boven de hoofdstukken, maar er zijn ook nog sms-jes en schuingedrukte stukken tekst. En natuurlijk is er steeds sprake van de schaduw, van de lange man, zonder dat duidelijk wordt wie daarmee bedoeld wordt, en wat zijn bedoelingen zijn.

Het is een bizar verhaal, dat meer raadselachtig dan spannend is. Je wil wel weten hoe het allemaal zit, maar die ontknoping is een beetje een anticlimax. Ook krijg je nauwelijks sympathie voor een van de personages, of het moet Miles zijn, die net als de lezer in het duister tast en zo zijn best doet. Of misschien Greta, de productieassistente, die steeds meer een hekel krijgt aan haar werkgever.

Phoebe Locke (Cambridgeshire) is een pseudoniem voor Nicci Cloke. Onder haar eigen naam schreef ze diverse boeken voor jongeren.

ISBN 9789402730807 | paperback | 320 pagina's | Uitgeverij HarperCollins | januari 2019
Vertaald uit het Engels door Manon Berlang
© Marjo, 7 april 2019

Lees de reacties op het forum en/of reageer, klik HIER