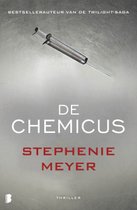 De chemicus
Stephenie Meyer

Ze is haar echte naam al bijna vergeten. Al drie jaar lang leeft ze onder valse namen op onderduikadressen die ze van boven tot onder beveiligd heeft. Slapen doet ze alleen met een gasmasker op, zodat de chemicaliën die vrijkomen als iemand haar onderkomen binnendringt, haar niet zullen schaden. Hoe het is om zonder angst te leven, weet ze niet meer. Ze is voortdurend op haar hoede. Altijd op de vlucht.

Ze was nog jong toen ze door de overheid gerekruteerd werd. In een laboratorium ontwikkelde ze in het diepste geheim chemische middelen die de geheime dienst tijdens ondervragingen gebruikte. Ze was goed in haar werk en werd al snel De chemicus genoemd. Omdat niemand haar mengsels beter kende dan zij, werd ze al snel gevraagd zelf de ondervragingen uit te voeren. Ze martelde mensen, lapte ze op en martelde ze weer. Ze voelde geen wroeging. Het ging om misdadigers van het ergste soort. Het was uiterst belangrijk dat deze lieden hun informatie met haar deelden.

Haar mentor, beste en enige vriend Barnaby werd steeds onrustiger. Hij had het idee dat ze gevaar liepen. Ze waren te goed in hun werk geworden, ze wisten te veel. Hij kreeg gelijk. Op een dag stroomde een dodelijk gas hun laboratorium binnen. Barnaby vond de dood. Zelf had ze geluk: ze bevond zich tijdens de aanslag op haar leven op het toilet. Sindsdien is ze op de vlucht. Ze leeft nog maar ze leeft het leven van een dode. Ze bestaat niet meer. De enigen die weten dat ze nog in leven is, zijn de mensen die haar willen doden.

Wanneer ze via een omweg een e-mail van haar oude baas Carston ontvangt, weet ze in eerste instantie niet of ze zijn woorden moet geloven. Waarom zou ze? Hij heeft haar verraden. Toch twijfelt ze. Misschien is Carston niet zo slecht als ze denkt. Eens konden ze goed met elkaar overweg. Hij schrijft haar dat ze haar nodig hebben en dat er levens op het spel staan. Heel veel levens.

Ze weet dat ze niet op zijn e-mail moet reageren maar in een opwelling stuurt ze toch een reactie. Biedt Carston haar werkelijk een uitweg? Krijgt ze de kans haar vrijheid terug te kopen door het redden van mensenlevens? Ze besluit op Carstons uitnodiging in te gaan maar ze is niet van plan op de afgesproken tijd op de afgesproken plek op te komen dagen. Dat zou te makkelijk zijn. Te gevaarlijk ook. Na drie jaar vluchten weet ze wel beter.

Cartons verzoek blijkt echt te zijn. Hij overhandigt haar een uitgebreid dossier over een ogenschijnlijk onschuldige leraar die banden met levensgevaarlijke lieden heeft. De vriendelijk ogende man is in werkelijkheid een monster. Als niemand hem en zijn kornuiten stopt, zal er een dodelijk virus op de nietsvermoedende bevolking van Amerika worden losgelaten. Ze besluit te helpen. Ze zal de leraar ontvoeren, meenemen naar een geheime locatie en hem martelen zoals alleen zij dat kan. Ze zal de waarheid uit hem krijgen.

Auteur Stephenie Meyer werd wereldberoemd door de Twilight-reeks. Een reeks waarin een meisje vriendschap met een weerwolf sluit en verliefd wordt op een vampier. Ook ik heb deze reeks destijds verslonden. De chemicus is anders. Hoewel het net als de Twilight-boeken de nodige romantiek en complexe situaties bevat, zijn de monsters in dit boek menselijk. Deze thriller is bovendien niet voor jongeren maar voor een volwassen publiek geschreven.

Stephenie Meyer schrijft heel meeslepend maar geloofwaardig is dit verhaal niet. Door de nogal vreemde combinatie van dodelijk gevaar en romantiek leest dit boek toch als een trein. Wel is het verhaal behoorlijk gewelddadig. De hoofdpersoon is immers gespecialiseerd in het martelen van mensen. Na drie jaar op de vlucht te zijn geweest, deinst ze er ook niet voor terug mensen te doden. Ook een groot aantal andere personages in dit boek is absoluut niet vies van een flinke dosis geweld. Soms raken de overige verhaallijnen hierdoor ondergesneeuwd. Of je van geweld houdt of niet: De chemicus is origineel, gedurfd en verrassend. Wie bovendien niet al te moeilijk doet over de aannemelijkheid van het verhaal, doet een bijzondere leeservaring op.

ISBN 9789022579824 | paperback | 525 pagina's | Uitgeverij Boekerij | november 2016
Vertaald door Marike Groot en Sander Brink
© Annemarie, 4 januari 2017
Lees de reacties op het forum en/of reageer, klik HIER