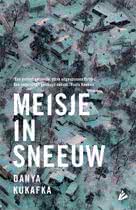 Meisje in sneeuw
Danya Kukafka
Vijftien jaar oud is Lucinda Hayes pas als ze gevonden wordt op de speelplaats van een basisschool, bedekt door een laagje sneeuw. Waarschijnlijk door geweld om het leven gebracht al is het ook nog mogelijk dat ze gevallen is. Wat voor meisje is Lucinda? Hoe zag haar leven er uit, met wie ging ze om, wat waren haar plannen en dromen?

Agent Russ wordt op de zaak gezet. Het is zijn eerste moordzaak al is hij al jaren bij de politie. Maar in het stadje Broomsville gebeurt dan ook eigenlijk nooit iets. Ook al doet hij zijn werk goed, echt gepassioneerd is hij niet. Hij is eigenlijk meer bezig met het verleden: met Lee Whitley, de man die hem begeleidde in zijn beginjaren, de man naar wie hij op keek, maar die verdwenen is. En dan is nu diens zoon Cameron verdachte in deze moordzaak! Dat is een probleem voor Russ, die Lee immers beloofd heeft op diens zoon te zullen passen.

Cameron is een klasgenoot van Lucinda, hij heeft black-outs, perioden waarvan hij niet kan zeggen waar hij was of wat hij uitspookte en hij was gefascineerd door het meisje. Hij stalkte haar, bespiedde haar. Meer nog dan men weet. Dat de lezer het wèl weet is omdat het boek een wisselend vertelperspectief heeft. De personages die hun verhaal vertellen zijn Russ en Cameron, maar ook het buurmeisje Jade, die net als Lucinda oppas is bij de Thorntons. Deze drie jongeren hebben iets gemeen: zij zijn buitenstaanders, ieder op een eigen manier.

Cameron is dus verdacht, maar er zijn meer personages die daar voor in aanmerking komen: een daarvan is de nachtportier die Lucinda gevonden heeft. Dat is Ivan, de broer van Russ' vrouw, vooral verdacht omdat hij ex-bajesklant is. Volgens Ines, zijn zus, is hij echter van de drugs af en onschuldig en zij vindt dat haar man Ivan juist zou moeten helpen.
Lucinda had een vriendje met wie zij de relatie beëindigd heeft. Is Edouard Arnaud op wraak uit geweest? Of is de dader misschien die zwerver, Howie Morrie, die zich altijd verdacht ophoudt?

Cameron moet vanwege zijn licht autistische stoornis naar de psycholoog:


'Ooit had de schoolpsycholoog Cameron gevraagd of hij liever op zichzelf was of liever in andermans gezelschap verkeerde. Wat een domme vraag. Anderen probeerden niet wanhopig Ontward te blijven, hoefden niet aan hun Verzamelingen en de complexe wezens daarin te denken, of aan Lucinda Hayes en al die lokken van haar haar met kliertjes op de punten die wasachtige olie afscheidden. Zij liepen niet rond met het beeld van centerfold Rayna Rae's heupen of het vlakkere gedeelte tussen die heupen, dat veel weg had van het schone binnenste van een marmeren wasbak. Zelfs in het gezelschap van anderen was Cameron alleen, en daardoor voelde hij zich zowel gelukkig in kosmisch, als nutteloos in werelds opzicht.'

En zo draait het verhaal eigenlijk vooral om Cameron, die wanhopig probeert te bedenken wat hij in zijn blackout-perioden gedaan heeft. Zou het kunnen dat hij de moordenaar is? Maar hij houdt toch van Lucinda! Cameron heeft door zijn nachtelijke 'Standbeeld' activiteiten meer informatie dan menigeen weet. Meer ook meer dan hij zelf beseft.

De nu 24-jarige Amerikaanse Danya Kukafka schreef vijf jaar aan 'Meisje in sneeuw', een psychologische thriller met een groot coming of age- aspect. Het blijft lekker lang spannend wat er nu eigenlijk gebeurd is!

ISBN 9789048832897 | Paperback | 320 pagina's | Hollands Diep| september 2017
Vertaald uit het Amerikaans door Joris Vermeulen
© Marjo, 7 februari 2018
Lees de reacties op het forum en/of reageer, klik HIER