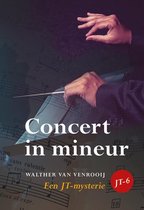 Concert in mineur
JT-mysterie: Deel 6
Walther van Venrooij


Peter Polak heeft geen idee wie toch die dreigbrieven schrijft. Hij heeft er nu al drie ontvangen. Die persoon moet het een en ander van hem weten, onder andere dat hij in Amsterdam en Leeuwarden was en nu weer thuis is in Nijmegen.
'Ga terug naar je vrouw! Als je Krista niet loslaat, zal dat je dood zijn!' staat er. De schrijver moet er dus ook van op de hoogte zijn dat hij van zijn vrouw Dori wil scheiden en met Krista verder gaan. Maar dat weet nog niemand behalve de betrokkenen!
Dat zijn dezelfde personen die later verdachten zijn, als Polak tijdens de pauze van het concert dat hij gaf dood wordt aangetroffen in zijn kleedkamer.

Omdat hoofdcommissaris Johan Kortekaas bevriend is met Polak - en hij was ook bij de uitvoering aanwezig – vraagt hij aan Joost Ternate om de zaak over te nemen. Hij werkt dan samen met politie-inspecteur Stefan van Drongelen.

Het is een vreemde zaak: er stonden wakers voor de deur van de kleedkamer, en zij weten het zeker: er is niemand in of uit gegaan tijdenns de pauze! Zelfmoord dan? Maar iedereen die ondervraagd wordt, weigert dat te geloven. Joost Ternate gaat er dan ook van uit dat iemand er toch op de een of andere manier in geslaagd is om het doosje te pakken te krijgen waarin de pillen zaten die Polak geregeld slikte. Dat was nu een pil met cyanide, de onbetwistbare oorzaak van zijn dood.

Zoals gezegd zijn degenen die mogelijk de dreigbrieven hebben geschreven ook verdachten: Youri, bij wie Krista woont. Zij speelt piano voor hem – en doet nog meer dingen waar ze niet meteen over praat, en verzorgt de huishouding. Youri was van plan om Krista zelf in te palmen. Hij wist dat ze weg zou gaan. Peter Polak was een bevriend met Youri, en had het hem verteld.
Pjotr, de secretaris van Youri, die zou het in opdracht gedaan kunnen hebben.
De echtgenote natuurlijk, Dori, die de scheiding helemaal niet aan zag komen, en dat vanwege haar geloofsovertuiging absoluut niet wilde.
Hun zoon, wel verdacht van de moord, niet van het schrijven van de brieven.
Op het landgoed woonde ook nog Danny. Je kon hem niet uitvlakken al was zijn motief onduidelijk.
En dan is er nog Jos, een hele goede vriend van Dori, met wie ze op een toneelclub kennis gemaakt heeft.

Aan Joost de taak om uit te zoeken wat er gebeurd is, en wie de dader is.
Er valt nog een slachtoffer, maar of dat de zaak vereenvoudigt? Want wat is het motief? Iets in de relationele sfeer? Geld? De KGB (je weet maar nooit)?

Dit is het zesde boek rond de privédetective Joost Ternate. Op de achtergrond is er zijn vrouw Inge, met wie hij de zaak bespreekt. Zij vertelt hem verhalen uit de mythologie en weet Joost soms op het goede spoor te zetten.
De verdachten krijgen ook de kans hun zegje te doen, dan zijn er cursieve stukjes tekst. Toch is het niet zo dat de lezer op deze manier ontdekt wie de dader is. Je kan zo je gedachten hebben, maar…
En ook al weet je het antwoord op die vraag wel als het boek uit is, dan blijven er nog andere vragen onbeantwoord.
Het boek leest lekker weg, en het is altijd leuk als blijkt dat je soms helemaal de verkeerde verdenkt!

Walther van Venrooij deed wetenschappelijk onderzoek aan de Radboud Universiteit, waarna hij met het schrijven begon. Eerst voor kinderen, daarna voor volwassenen. In 2016 verscheen zijn eerste misdaadroman met inspecteur Joost Ternate in de hoofdrol, intussen is het al een hele serie!

ISBN 9789463652728 | Paperback | 208 pagina's | Uitgeverij Elikser | oktober 2020

© Marjo, 22 november 2020
Lees de reacties op het forum en/of reageer, klik HIER