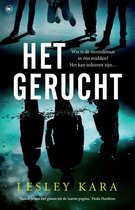 Het gerucht
Lesley Kara

Joanna bedoelt het goed, als ze op een bijeenkomst van de leesclub een andere vrouw probeert te redden van Karen, die haar aan een kruisverhoor lijkt te onderwerpen. Ze gooit de naam Sally McGowan in de groep, de vrouw over wie ze zojuist heeft gehoord dat die in hun dorp zou wonen.
Het werkt, maar de gevolgen zijn heel vervelend.
De naam van het meisje dat op tienjarige leeftijd een joch van vijf jaar doodstak wekt meteen belangstelling. Als Joanna ook nog vertelt dat de vrouw verborgen zou zijn in een dorp zonder kroeg, en dat van toepassing was op Flinstead in die tijd….

Al heeft die moord al 48 jaar geleden plaatsgevonden, het is nog steeds een feit dat de tongen in beroering brengt. Niemand wil dat de moordenares in hun buurt woont. De vrouw zit sinds haar vrijlating in een beschermingstraject, heeft natuurlijk een andere naam. Iedere vrouw van die leeftijd kan haar zijn…
Joanna is zelf nog maar pas in Flinstead komen wonen vanuit Londen, waar haar zoontje Alfie van zes op school gepest werd. In het dorp woonde haar moeder, het leek een goede keuze om in haar buurt te gaan wonen, temeer omdat Joanna een alleenstaande moeder is.
Maar alleen al de mogelijkheid dat die moordenares in het dorp zou wonen, lijkt, nadat Joanna het gerucht verspreid heeft, de gemoederen danig in beweging te brengen. Een eigenaresse van een winkel wordt bedreigd, de ruiten ingegooid van haar boetiek. Joanna krijgt akelige tweets.
Gelukkig komt er steun van haar vriend, Michael, die zowaar aankondigt dat hij wel meer wil in hun relatie. Maar hij is journalist, en niet iedereen is blij met zijn aanwezigheid.

En dan gebeurt er heel veel, al is het vooral in Joanna's hoofd. Als een van die vrouwen een moordenares is, wie is het dan? En wie stuurt haar die tweets? Het kan iedereen zijn: de vrouwen van de leesclub, de moeders op school, de vrouwen van de oppaskring. Zelfs de vrouwen met wie ze te maken krijgt uit hoofde van haar werk als makelaar.
Ze haalt zich van alles in het hoofd, hoe kan ze haar kind beschermen? Zijn ze wel veilig?
Lesley Kara maakt goed gebruik van de twijfel en de angst die een jonge alleenstaande moeder danig in vertwijfeling kan brengen. Is het Sonia? Is het Kay? Of Maddie? Of zou het Liz zijn? Het kan iedereen zijn…

In een sneltreinvaart razen we langs de ene verdenking naar de andere, Kara houdt er goed de vaart in, en weet ook hoe ze verrassende wendingen in het verhaal kan brengen. Al kan het de lezer enigszins duizelen van al die namen, het is absoluut de moeite waard om er even moeite voor te doen het verhaal te volgen. Tussendoor zijn er ook nog cursiefjes die waarschijnlijk van de hand van de moordenares zijn, en krantenartikelen uit de tijd dat zij haar daad pleegde.

De boodschap lijkt dat we beter nadenken voor we een roddel of een gerucht de wereld in sturen om dat het desastreuze gevolgen kan hebben. Maar buiten dat is Het Gerucht een spannende psychologische thriller, een debuut nog wel! Absoluut veelbelovend.


ISBN 9789044357394 | paperback | 304 pagina's | Uitgeverij House of the Books | maart 2020
Vertaald uit het Engels door Els van Son

© Marjo, 24 mei 2020

Lees de reacties op het forum en/of reageer, klik HIER