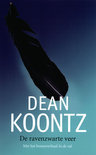 De ravenzwarte veer
Dean Koontz

Dean Koontz (1945) schrijft al vanaf zijn tijd op high school waarna hij op 24-jarige leeftijd besloot om zijn baan als leraar Engels op te geven en zich fulltime op het schrijven te richten. In eerste instantie schreef hij sciencefiction, maar na verloop van tijd ging hij zich ook richten op suspense en horror. De verschillende genres werden onder verschillende pseudoniemen geschreven, totdat hij de genres in elkaar ging schuiven en worden de boeken onder zijn eigen naam gepubliceerd. Zijn oeuvre is indrukwekkend groot.

In De ravenzwarte veer komen sciencefiction, een tikje horror en spanning allemaal samen. Het boek bevat 2 korte verhalen: het titelverhaal De ravenzwarte veer en het al eerder verschenen maar nu opnieuw uitgegeven bonusverhaal In de val. Wat doe je wanneer degenen die je het liefst zijn, worden aangevallen? Of het nu door mensen of dieren is, je instinctieve reactie is ervoor zorgen dat je gezin veilig is. In De ravenzwarte veer gaat de tienjarige Howie Dugley zover dat hij een moordenaar laat lopen wanneer die belooft zijn moeder en zusje met rust te laten. Maar welke gevolgen heeft dat voor hemzelf wanneer hij merkt dat het moorden doorgaat? (Dit korte verhaal is als novelle geschreven parallel aan het boek Veertien dat in 2011 is verschenen)
In het tweede verhaal zitten de jonge weduwe Meg en haar zoon Tommy letterlijk als ratten in de val wanneer hun door een sneeuwstorm van de buitenwereld afgesloten huis wordt overgenomen door uit een laboratorium ontsnapte ratten. De ratten zijn zodanig gemanipuleerd dat zij een hoog IQ hebben. Hoger dan Meg?

Koontz is er andermaal in geslaagd 2 geweldige, superspannende verhalen te schrijven. Beide verhalen nagelen je aan je stoel totdat je de laatste punt van de laatste zin gelezen hebt. Juist omdat alles zich in slechts 69 (De ravenzwarte veer) en 76 (In de val) bladzijden afspeelt is het knap van Koontz dat hij toch met twee redelijk complete verhaallijnen voor de dag is gekomen.

Het bonusverhaal In de val maakte op mij meer indruk omdat het een goed afgerond geheel is. Bij De ravenzwarte veer is het sciencefiction gehalte naarmate het verhaal vordert hoger en is de afronding losser, zonder een herkenbaar slotakkoord.
Voor iemand die wil kennismaken met de thrillers van Dean Koontz is dit boek, dat voor een klein prijsje te koop is in de boekhandel, een uitermate geschikte gelegenheid. Ik zou zeggen: grijp die kans en voor je het weet ben je voor altijd verslingerd aan de verhalen van deze uitstekende auteur.

ISBN 9789024534814 Paperback 176 pagina's | Luitingh | november 2011
© Joanazinha, 20 januari 2012
Lees de reacties op het forum en/of reageer, klik HIER