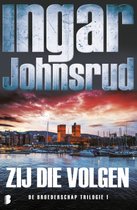 Zij die volgen
Ingar Johnsrud

De afgelegen boerderij van de zwaar religieuze sekte Guds Lys – Noors voor het licht van god – leek door niemand minder dan de duivel te zijn bezocht. Vijf mannelijke sekteleden zijn op wrede wijze om het leven gebracht. Ook pastor Bjørn Alfsen jr., de leider van de sekte, is omgekomen. Hij zat geknield voor zijn bed te bidden toen een dodelijke kogel zijn schedel doorboorde. Iemand heeft een enorme woede op de sekteleden botgevierd. Wat heeft zich precies in het eens zo vredige oord afgespeeld? Hoofdinspecteur Fredrik Beier staat voor een raadsel.

Niet veel later stuit Fredrik op een ondergrondse ruimte. Waarvoor werd de zwaarbeveiligde ruimte gebruikt? Het lijkt wel een laboratorium. Het lichaam van een zesde slachtoffer belet een zware, stalen deur te sluiten. Keer op keer beukt de elektronische deur tegen het hoofd van de onbekende aan. Fredrik sleept het lichaam uit de deuropening en ontdekt tot zijn verbijstering dat de man nog in leven is. In allerijl wordt een ambulance gebeld. Het slachtoffer is niet aanspreekbaar.

De vrouwen en kinderen die op de boerderij verbleven, zijn nergens te bekennen. Ook ontbreken er nog een aantal mannelijke sekteleden. In totaal woonden er 25 tot 30 mensen op de boerderij. Zijn ze gevlucht of ontvoerd? Ook Annette Wetre, de dochter van de vooraanstaande politica Kari Lise Wetre, en haar vierjarige zoontje William zijn spoorloos verdwenen. Kari Lise Wetre is wanhopig. Ze vindt het verschrikkelijk dat haar dochter zich bij de sekte heeft aangesloten maar in ieder geval wist Kari Lise waar haar dochter en kleinzoon waren. Nu is haar zelfs die zekerheid ontnomen.

Guds Lys liet zich over heel wat zaken negatief uit. Zo was de sekte een fel tegenstander van de islam. De polsen van pastor Alfsen waren met een sjaal met daarop een Arabische tekst bij elkaar gebonden. Gaat het om een religieuze wraakactie? Al het bewijs wijst richting de islamitische terreurbeweging Jamaat-e-Islami. De leider van de beweging, emir Mohammed Khaled Omar, is al weken niet meer gesignaleerd. Ook zijn lijfwacht is verdwenen. Houden ze zich in verband met de aanslag op Guds Lys schuil?

Fredrik krijgt hulp van Kafa Iqbal van de PST (de Politiets sikkerhetstjeneste oftewel: de Noorse veiligheidsdienst). Kafa is een specialist op het gebied van islamitisch fundamentalisme en terrorisme. Fredrik is allesbehalve blij met haar hulp. Hij zit niet op pottenkijkers te wachten en bovendien weet hij niet goed wat hij eigenlijk van moslims vindt. Kafa rekent echter al snel met al Fredriks vooroordelen af. Ze is intelligent en deinst nergens voor terug.

Na een geslaagde maar gevaarlijke actie weten Fredrik en Kafa de lijfwacht van de emir in de kraag te vatten. Zoals verwacht weigert hij de verblijfplaats van zijn werkgever te onthullen. Hij beweert bovendien dat hij de emir als vermist heeft opgegeven. Wanneer Fredrik en Kafa een nieuwe aanwijzing natrekken, stuiten ze op een zolderruimte met een lijk. Het is de emir. Hij is niet de dader maar eveneens een slachtoffer. Al snel beseffen Fredrik en Kafa dat zich nóg iemand op zolder bevindt. De onbekende aanwezige is springlevend, oersterk en woedend.

Zij die volgen is het eerste deel van de Broederschap trilogie. Het is bovendien het debuut van de Noorse schrijver Ingar Johnsrud. In deze voortreffelijke en zeer spannende thriller staat niet alleen het doen en laten van de sekte maar ook een broederschap, die rond de Tweede Wereldoorlog actief was, centraal. Hoe is een boek over rassenleer in de boerderij van Guds Lys beland? De lezer leert de leden van de broederschap goed kennen. Zij hielden zich bezig met experimenten om de verschillen tussen rassen in kaart te brengen. Wat begon als puur wetenschappelijke interesse ontaarde in een gruwelijke vorm van volkerenhaat. Een aantal leden hielden het voor gezien maar toen de Tweede Wereldoorlog uitbrak, overschreed een van hen alle grenzen van het menselijke.

Zij die volgen is een fascinerend boek dat concentratie vereist om het verhaal goed te kunnen volgen. Gelukkig voegt de auteur nieuwe ontwikkelingen goed gedoseerd toe. De onthutsende waarheid wordt stukje bij beetje uitgevouwen. Ingar Johnsrud maakt duidelijk dat het maar goed is dat we niet precies weten waar bepaalde groeperingen zich precies mee bezighouden. Anders zouden we nooit meer rustig kunnen slapen…

Zij die volgen is van begin tot eind boeiend en stemt tot nadenken. Willen we wel of niet van alles op de hoogte zijn? Ik ben heel benieuwd hoe deze trilogie zich verder gaat ontwikkelen.

ISBN 9789022576311 | paperback | 462 pagina's | Uitgeverij Boekerij | augustus 2016
Vertaald door Annelies de Vroom
© Annemarie, 16 oktober 2016
Lees de reacties op het forum en/of reageer, klik HIER