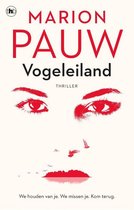 Vogeleiland
Marion Pauw

Het boek begint met meteen met raadsels: Berend, de ik-verteller, lijkt zich meer druk te maken over de aanstaande bevalling van Marianne dan Marianne zelf. Hij heeft in zijn eentje het boek Veilig bevallen goed bestudeerd! Vrij snel wordt duidelijk dat de twee in een hut wonen, op een eiland, waar ze een primitief leven leiden. Zij hebben nauwelijks contact met het vasteland. Berend gaat daar wel heen voor zijn werk en om boodschappen te doen, maar gaat verder met niemand om. Marianne is niet onder behandeling van een vroedvrouw of arts. Zij gaat nergens heen.

Als het kind geboren wordt – een meisje, in plaats van de jongen waar Berend zo zeker van was – heeft Marianne totaal geen interesse in het kind. Ze heeft duidelijk een postnatale depressie, maar waarom gaat Berend niet met haar naar een dokter?

'Ik wil dat kind niet,' zei Marianne. 'Geef het maar weg. Gooi het maar in het meer. Ik wil het niet.'
'Dat denk je alleen maar… Je hebt haar nog niet eens bekeken.'
Marianne richtte zich voor het eerst sinds de bevalling op, nam een teug adem en schreeuwde: 'Ik wil het niet!'
Ik schreeuwde terug: 'Maar je hebt geen keus!'

Wat is hier allemaal gaande? Waarom hebben die twee zich geïsoleerd op een eiland? Wat zal er nu met het kind gebeuren? En met de moeder…

In de tweede verhaallijn, jaren na het verhaal van Berend en Marianne, is Nicole aan het woord. Zij heeft een finca geërfd in Spanje, een boerderijtje op het platteland. Haar relatie is net voorbij, dus grijpt Nicole deze kans met beide handen aan: ze gaat naar Spanje!
Haar twee vriendinnen hebben zelf kinderen, daar hoeft ze geen rekening mee te houden, dat doen ze met haar ook niet.
Nicole draagt al jaren een last met zich mee, na het verdwijnen van haar oudere zusje, zoveel jaar geleden alweer, was het thuis niet meer zoals daarvoor. Haar moeder weigerde te accepteren dat Marianne niet terug zou komen, en haar vader was niet in staat zijn vrouw in te tomen. Ook voor zijn andere dochter kon hij er niet zijn. Ze heeft geen normale jeugd gehad.

In de hoofdstukken waarin de twee verhaallijnen elkaar afwisselen, komen heden en verleden langzaam bijeen voor de apotheose.
Wat voor meisje is Marianne? Wat is er met haar gebeurd voor dat ze Berend ontmoette? En wat gebeurde er op dat eiland, het Vogeleiland. Het is door het verhaal van Nicole duidelijk dat zij en haar ouders hun zus nooit teruggezien hebben.
Je verbaast je over de manier waarop Berend tevergeefs probeert hun leven in goede banen te leiden. Je bent verbijsterd als deze verhaallijn zich ontwikkelt.
Het is een dramatisch verhaal, waarin je meegesleept wordt in het gevoelsleven van de hoofdpersonen. De worsteling met hun bestaan, over hoe het verleden hun toekomst bepaalt, een toekomst die niet op een voorspoedige manier verloopt. Natuurlijk niet: dit is een thriller.

Marion Pauw heeft een uitstekende psychologische thriller geschreven, eentje die je absoluut wil uitlezen terwijl je van spanning je nagels afbijt.
Pauws stijl is zintuiglijk en filmisch. De personages komen tot leven, je ziet de situaties zich als het ware voor je ogen afspelen.
Er zijn enkele verrassende wendingen, er komt een derde verhaallijn bij, de spanning blijft tot het einde.

Marion Pauw (1973) is schrijfster en scenariste. Ze schreef onder andere de bestsellers 'Daglicht', 'Zondaarskind' en 'Hemelen'. Voor 'Daglicht' ontving Pauw de Gouden Strop en de IJslandse prijs The Icepick Award voor beste vertaalde thriller.

ISBN 9789048854943 | paperback | 272 pagina's | Uitgeverij House of the Books | mei 2021
© Marjo, 2 mei 2021
Lees de reacties op het forum en/of reageer, klik HIER