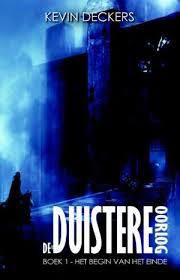 Het begin van het einde
Deel een de fantasyserie De Duistere Oorlog
Kevin Deckers

Zoals het een fantasyverhaal betaamt, begint het boek met een orakelspreuk.

'Goden en wezens zijn eigenlijk een. Een volk, duizenden krachten, duizenden machten.
Zes werelden. Een vernietiging. (-) Alles zal verpulverd worden onder het oog van velen. De wereld komt aan zijn einde.'

De strijd tegen de Duistere begint. Opnieuw. Vanaf het begin der tijden werd het universum beheerst door goed en kwaad, goden versus de Duistere. Eens in de duizend jaar heeft de Duistere genoeg macht om zijn troepen te laten ontwaken. Dan moet een van de vier volken – dwergen, mensen, elfen of reuzen het tegen hen opnemen. De beurt is nu aan de dwergen.De god van der dwergen zal een wezen bewonen, en hem helpen.

Het verhaal begint met de geboorte van die dwerg. Rayon zal hij heten, hij die de spil is van de Duistere Oorlog. De Dacan, de leider van de vier volkeren. Hij moet leren om te gaan met de oerkrachten om zijn taak te kunnen vervullen. Natuurlijk gaat niet alles naar wens, maar hij krijgt hulp van mensen. Bijvoorbeeld Theodor Maxim, de strijder, die de dwerg zal leren vechten. Om zijn kracht te kunnen beheersen moet Rayon een aantal voorwerpen vinden. Dat zal ook voorkomen dat hij te snel ouder wordt, want doordat hij de Oerkracht gebruikt, veroudert hij snel.

Het eerste voorwerp ligt in een kloof in het Dwergengebergte. Intussen wordt de Duistere steeds sterker en worden de goden in Olympia op hun heuvel bedreigd. Goliath moet al zijn oerkrachten te hulp roepen om stand te houden, en intussen hebben de goden ook hun handen vol aan het in de gaten houden van wat er op aarde met de vier volkeren gebeurt. Zullen ze het redden? Hebben ze meer hulp nodig?

Zo begint de queeste van Rayon, die de wereld moet redden. Er komen veel personages aan te pas, meer of minder belangrijk. Er zijn orken, demonen, elfen, goden, draken en vampiers, allen met vele eigenschappen en krachten. Zelden verloopt het verhaal rustig, meestal is het een orkaan van geweld.

De uitwerking van personages en omgeving is erg summier, er zijn meerdere verhaallijnen, die soms overbodig lijken, maar dan toch weer in het verhaal gepast worden. En mogelijk worden bepaalde lijnen in verdere delen uitgewerkt. Dit is fantasy voor liefhebbers van actie. Verwacht geen romantische taferelen!

ISBN 9789463080491| paperback| 247 pagina's | Uitgeverij Zilverspoor| augustus 2016
© Marjo, 13 december 2016
Lees de reacties op het forum en/of reageer, klik HIER