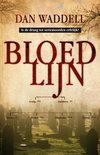 Bloedlijn
een genealogische thriller
Het verhaal begint met de moord op een zekere Bertie en na deze proloog maken we kennis met hoofdinspecteur Grant Foster en brigadier Heather Jenkins, die bij een lijk op een kerkhof worden geroepen. Het slachtoffer is een man van een jaar of 30, waarvan de handen zijn verwijderd.

In het volgende hoofdstuk maken we kennis met Nigel Barnes, die zich beroepshalve met genealogie bezig houdt. Bij de lijkschouwing ontdekt men dat op het lichaam van het slachtoffer een combinatie van cijfers en een letter is gekerfd en Heather komt op het idee dat er sprake kan zijn van een verwijzing naar een archiefstuk. Zo komt men uit bij het slachtoffer van een seriemoordenaar uit 1879. Na de vondst van een tweede lijk vraagt men zich af of er sprake is van een copycat, of dat er iets anders achter zit. In de archieven wordt gezocht naar de nazaten van de slachtoffers van de eerste seriemoordenaar, maar dit breng de zaak niet veel verder.

Het boek heeft een heel verrassende invalshoek, waar ik verder niet al te veel over wil verklappen. In ieder geval worden de misdaden uit het verleden, die je later vanuit de moordenaar beleeft, gekoppeld aan die in het heden, maar heel anders dan men eerst verwacht. Het is beslist een origineel idee om misdrijven eens vanuit een genealogisch perspectief te bekijken. De vraag is hooguit hoe lang je hiermee door kunt gaan. Ik ben in ieder geval heel benieuwd naar het tweede boek van deze schrijver, met dezelfde hoofdpersonen.

ISBN 9789024525614 Paperback 302 pagina's Luitingh oktober 2009
Vertaald door Carla Hazewindus
Lees de reacties op het forum en/of reageer, klik
HIER
---