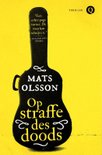 Op straffe des doods
Mats Olsson

Op de felgeel gekleurde cover van dit thrillerdebuut prijkt een gitaarkist. Op de achterkant is een afbeelding van een mattenklopper te zien. Gaat dit boek over een muzikant en een ijverige huisvrouw? Absoluut niet. De gitaarkoffer bevat geen gitaar maar iets anders. Denk je het te weten? Nee, het is geen wapen. Het is de mattenklopper. En ook de mattenklopper heeft een nevenfunctie. Er wordt niet mee op matten maar op damesbillen geslagen.
De eigenaar van de gitaarkoffer en de mattenklopper heet Harry Svensson. Nadat hij zijn carrière als journalist aan de wilgen heeft gehangen, besluit hij zijn ontslagpremie te gebruiken om een restaurant te openen. Zijn plannen staan nog in de kinderschoenen maar toch weet wijnhandelaar Ulrika Palmgren hem al te vinden. De wijn die ze verkoopt smaakt gruwelijk maar Ulrika zelf trekt wél Harry's aandacht. Er ontstaat een e-mailwisseling die steeds smeuïger van toon wordt. Ulrika geeft aan dat ze straf verdiend heeft. Wil Harry haar misschien een pak slaag geven?

Harry heeft zich op het ondeugende afspraakje verheugd maar het loopt volledig in de soep. De aanvankelijk enthousiaste Ulrika ontsteekt tijdens het ontvangen van de billenkoek plotseling in woede en sommeert Harry te verdwijnen. Enigszins beduusd rept hij zich terug naar zijn hotelkamer. De deur van de kamer tegenover hem staat op een kier. Er stroomt nog altijd journalistenbloed door Harry's aderen en hij besluit een blik in de kamer te werpen. Je weet immers maar nooit. Op het bed ligt de bekende zanger Tommy Sandell. Hij slaapt een dronkenmansslaap. Naast de artiest ligt een onbekende vrouw. Ze is morsdood.

De ongewone vondst levert Harry een mooie freelanceopdracht op. Hij krijgt zowaar weer wat plezier in het journalistenwerk. Een paar maanden later vindt er een soortgelijk voorval plaats. Opnieuw wordt er naast een prominente Zweed een dode dame aangetroffen. Beide dames lijken niet door de bekendheden omgebracht te zijn. Hun moordenaar heeft de dronken beroemdheden er haarfijn ingeluisd. De slachtoffers hebben bovendien een pak slaag gehad. De striemen op hun billen zijn duidelijk te zien. De naam van het tweede slachtoffer doet Harry duizelen. Het is Ulrika Palmgren.

Harry beseft dat hij en de moordenaar dezelfde voorliefde delen. Terwijl hij artikelen over de "spankingmoordenaar" schrijft, doet hij net of zijn neus bloedt. Zijn privéleven is precies wat het woord al zegt: privé. Wanneer de moordenaar hem persoonlijk benadert, voelt hij zich bijzonder ongemakkelijk. De moordenaar weet maar al te goed dat Harry het slachtoffer kende. Ook weet hij dat hij en Harry dezelfde hobby hebben. Harry weet dat hij naar de politie moet stappen. Hij heeft zelfs een contactpersoon bij de politie met wie hij informatie over de moorden deelt. Toch houdt hij zijn mond. Hij wil niet dat zijn voorkeur voor sm aan het licht komt. Harry besluit de zaak tot op de bodem uit te zoeken en de moordenaar op eigen houtje op te sporen.

Op straffe des doods is het thrillerdebuut van journalist Mats Olsson. Hij schrijft al 50 jaar over de meest uiteenlopende onderwerpen. Tijdens zijn lange carrière heeft Olsson overduidelijk de nodige mensenkennis opgedaan en dat maakt dit boek zo voortreffelijk. De geloofwaardigheid van de bonte stoet personages in dit boek zorgt voor een overtuigend verhaal. Een thriller over een sm-moordenaar kan al snel in een platvloerse vertelling ontaarden maar dat is in dit boek totaal niet het geval. Het verhaal is goed onderbouwd, uitgebreid (soms neigend naar langdradig) en uiterst origineel. De geheel eigen sfeer doet denken aan die uit een cultfilm.

Ook de verhaallijn van de moordenaar komt aan bod. Het is een verknipte man. Harry deelt weliswaar ook graag her en der een welgeplaatste mep uit maar dit gebeurt louter met wederzijds goedvinden. De moordenaar slaat en moord om zijn slachtoffers te straffen. Wat triggert hem? Waarom moeten juist deze vrouwen gestraft worden? Is de man als monster geboren of heeft iets of iemand hem zo gemaakt? Op straffe des doods is een bijzonder veelbelovend debuut!

ISBN 9789021400044 | paperback | 540 pagina's| uitgever | oktober 2015
Vertaald door Ydelet Westra
© Annemarie, 17 december 2015
Lees de reacties op het forum en/of reageer, klik HIER