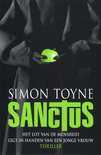 Sanctus
Simon Toyne
Een monnik rent angstig door de donkere gangen van een citadel om te ontsnappen aan de gruwelen die hij net heeft gezien. Meerdere monniken zitten achter hem aan om hem het zwijgen op te leggen. Na in de een hoek te zijn gedreven ontsnapt hij uit een raam en kan dan twee kanten op, diep naar beneden, of omhoog via een steile rotswand. Hij besluit om te gaan klimmen en start daarmee een eeuwenoude heilige voorspelling.

Zo begint Sanctus en sleurt je meteen mee in een wereld vol spanning. De lezer komt erachter dat de monnik een zus heeft die haar broer al jarenlang voor dood heeft gewaand, maar hem plotseling op televisie ziet. Hij staat met zijn armen gespreid bovenop het hoogste punt van de citadel, tot hij besluit om naar beneden te springen. Dit allemaal voor het oog van de camera.
De zus genaamd Liv wil achter de waarheid van de dood van haar broer komen en reist af naar de plaats Ruïn in Turkije waar de citadel staat. Het lichaam van haar broer zit onder de vreemde littekens en een autopsie wijst uit dat hij een boodschap voor zijn zus heeft achtergelaten. De taak aan Liv om erachter te komen wat het geheim van de citadel precies is en nog belangrijker, in leven te blijven.

Het belangrijkste personage in dit boek is niet zozeer Liv, als haar broer of de orde der Sancti, maar de citadel. Mensen die in en rond de citadel wonen leven langer en genezen sneller van ziekten. Dit komt door het Sacrament wat al eeuwen door de orde der Sancti geheimgehouden wordt en wat ook meteen de spil van het boek is. Liv gaat doormiddel van de boodschap die haar broer heeft achtergelaten op zoek naar de waarheid van het Sacrament. De orde der Sancti heeft Liv nodig om de heilige voorspelling van het Sacrament uit te voeren en de Mala willen Liv beschermen en het Sacrament bevrijden.

Vanaf het begin boeit het boek, maar ik kon niet een "DaVinci code kloon"-gevoel onderdrukken. Dit gevoel verdwijnt echter snel wanneer de lezer steeds dieper het boek in duikt en het verhaal vordert. Simon Toyne neemt je mee op een denderend avontuur met heilige verwikkelingen en geeft aan het eind een onverwachte twist aan de betekenis van het Sacrament.

Sanctus is deel 1 van een trilogie en deel 2 is inmiddels ook gereed. De plannen voor deel 3 staan al in de steigers.

ISBN 9789024532919 Paperback 360 pagina's | Luitingh-Sijthoff | augustus 2011
© Poofy, 14 oktober 2011
Lees de reacties op het forum en/of reageer, klik HIER
---