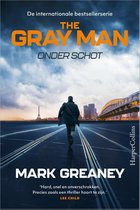 The Gray Man - 1. Onder schot
Mark Greaney

Courtland Gentry is keihard, oersterk en vindingrijk. Eigenschappen die hij als huurmoordenaar wel moet hebben om te overleven.
Toen hij nog geheim agent was bij de CIA wist hij zijn opdrachten af te ronden zonder ophef, haast zonder gezien te worden, hetgeen hem de bijnaam The Gray Man opleverde. Nu is hij min of meer freelance, en heeft namens de Amerikaanse regering een opdracht vervuld in Syrië en Irak.

Als er in zijn omgeving een Amerikaanse helikopter wordt neergeschoten en hij ziet hoe Al Qaedastrijders zich botvieren op de lichamen van de slachtoffers kan hij het niet laten: hij bemoeit zich ermee, redt twee overlevenden en doodt de strijders.
Dan ontdekt hij dat zijn opdracht een heel vervelend gevolg heeft: hij moet uit de weg geruimd worden. Er komt een zeer hoge prijs op zijn hoofd. Letterlijk. En zijn opdrachtgever kan hem niet meer bijstaan, die heeft het zelf al moeilijk genoeg. Gentry is op zichzelf aangewezen.

Hoe kan hij dit overleven: meer dan 10 teams van de beste jagers en moordenaars uit alle streken van de wereld zitten achter hem aan, geholpen door meer dan 100 surveillance-experts, onder leiding van de beste techneut. En Gentry heeft ergens in dat sterke onverwoestbare lijf een klein hartje: hij komt op voor onschuldigen.

Alles draait om geld en macht. Er is wel een verhaal op de achtergrond, over energie en de olie- en gasvelden in Nigeria, maar daar wordt weinig over verteld. Het verhaal gaat om de jacht op The Gray Man.

'Je bent een jager, net als ik. Het zit in je bloed, of niet dan? Je kunt er niet mee stoppen. Je hebt je prooi, je doel, je raison d'être.'

Dit levert een superactiethriller op, waarin de lezer meegesleurd wordt zonder tijd om pauze te nemen. Dat doet Gentry zelf ook niet. Dat is meteen een van de ongeloofwaardige elementen in dit verhaal. Hij lijkt wel onkwetsbaar, een superman. Een die terwijl hij steeds zijn spullen kwijtraakt toch over een flinke hoeveelheid cash blijkt te beschikken. En ondanks al zijn verwondingen toch steeds weet te winnen.
Maar stap over die ongeloofwaardigheden heen en je leest een superspannende boek, spannend van begin tot einde, maar hard en gewelddadig. Er is alleen dat kleine meisje dat in staat blijkt tot het hart van een huurmoordenaar door te dringen.
Het eerste vertaalde boek van een serie van intussen 11 delen eindigt met een duidelijke cliffhanger.

Mark Greaneys stijl is zeer filmisch, en het is dan ook niet vreemd dat The Gray Man is verfilmd. Het is de duurste Netflix-film ooit. Ryan Gosling en Chris Evans zullen de hoofdrollen vertolken. Het budget van deze nieuwe film bedraagt maar liefst 200 miljoen dollar. De regisseurs zijn Joe en Anthony Russo (de Russo Brothers), die bekend zijn van onder andere de Marvel-blockbuster Avengers: Endgame.

Mark Greaney (1967, Memphis, Tennessee) is coauteur is van de boeken van Tom Clancy en weet dus van wanten. Om deze serie te schrijven heeft hij maar liefst vijftien landen bezocht en trainde hij mee met militairen en arrestatieteams.

ISBN 9789402708318 | Paperback | 400 pagina's | Uitgeverij HarperCollins | augustus 2021
Vertaald uit het Engels door Erik de Vries
© Marjo, 2 november 2021
Lees de reacties op het forum en/of reageer, klik HIER