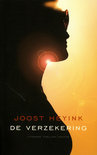 De verzekering
Joost Heyink
Joost Heyink is in 2000 begonnen met het schrijven van spannende jeugdboeken en sinds 2008 schrijft hij daarnaast ook thrillers voor volwassenen. Zijn psychologische achtergrond komt hem bij het uitwerken van de plots goed van pas. De verzekering is zijn derde thriller.

In De verzekering draait het allemaal om oplichting. Tim Henderson is een schrijver wiens carrière een beetje in het slop is geraakt. Hij bedenkt een mooi plot voor een nieuw boek: vent draait verzekeringsmaatschappij een poot uit door zijn eigen dood te ensceneren. Henderson en zijn vriendin Laura gaan nog een stap verder en willen het plot daadwerkelijk gaan uitvoeren om zo een een paar miljoen euro te 'verdienen' en te gaan rentenieren op Bali. Tussen de bedrijven door verwerkt hij alles wat er gebeurt in een boek dat natuurlijk een bestseller moet worden. Tot zover is er geen vuiltje aan de lucht – behalve uiteraard voor de verzekeringsmaatschappij – maar wanneer het plan daadwerkelijk uitgevoerd wordt, wordt al gauw duidelijk dat er een addertje onder het gras schuilt. Wanneer de fraude achter de rug is, blijkt Laura helemaal niet van plan te zijn de miljoenen met hem te delen. De oplichter opgelicht?

De verzekering is een vlot geschreven boek, waarin de spanning helaas een ondergeschoven kindje is. De hoofdpersoon Tim spreekt je als lezer direct aan, waardoor je het gevoel hebt aanwezig te zijn bij zijn avonturen. Hij is een ietwat sullige, goedgelovige man die de greep op zijn prachtige idee verliest doordat Laura zich niet aan de afspraken houdt. De auteur hanteert een snelle, vlotte schrijfstijl met een quasi laconieke, humoristische ondertoon en korte krachtige zinnen. In eerste instantie leest dat prettig en kun je nog meeleven met de capriolen van Tim, maar na verloop van tijd gaat het irriteren. Die ergernis blijft als een weerhaakje in het achterhoofd zitten.

Het boek blijft naar mijn gevoel hinken op twee gedachten: of het is een hilarische thriller of het is een spannende slapstick. Geen van beide opties komt echt goed uit de verf. Desalniettemin is het boek goed voor een paar uurtjes ontspannen leesplezier. En daar is niets mis mee. Maar de verwachtingen die door de cover worden gewekt, worden helaas niet echt waargemaakt.

ISBN: 9789041417749 Paperback, 240 pagina's Uitgever: Anthos
© Joanazinha 6 oktober 2011
Lees de reacties op het forum en/of reageer, klik HIER