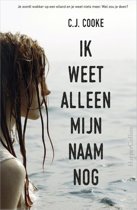 Ik weet alleen mijn naam nog
C. J. Cooke

Op een strand in Griekenland, om precies te zijn op Kommeno-eiland, is een vrouw aangespoeld. De lezer weet dat zij Eloïse heet, omdat het hoofdstuk met deze naam begint, maar de vrouw zelf weet het niet, zij blijkt haar geheugen totaal kwijt te zijn. Ze hoort stemmen, iemand die Joe genoemd wordt, behandelt haar wonden. Deze man en de anderen die erbij zijn brengen haar naar een ruimte die lijkt op een keuken. Er zijn twee vrouwen die ze zal leren kennen als Sariah en Hazel. De vierde persoon is een oudere man die George heet.

Ze vertellen haar dat het eiland vlakbij Kreta ligt en onbewoond is op hen vieren na. Zij zijn daar om te in alle rust schrijven.
Eloïse heeft geen idee wie ze is, en waarom ze daar is. Ze blijkt met een zeilboot op het strand te zijn gelopen, de boot is beschadigd. De anderen blijken verdeeld in hun pogingen haar te helpen. Sariah is heel aardig, en zij is dan ook degene die haar beschermt tegen George die nogal hardvochtig is. Hij loopt op een gegeven moment gewapend rond en het lijkt wel of hij niet wil dat Eloïse haar geheugen terug vindt. De telefoon doet het niet meer, is dat door zijn toedoen?
Maar waarom zou hij hij daar op het eiland willen houden?
Intussen weet de lezer wèl wie de vrouw is. In Londen bevindt namelijk een radeloze man, die met twee kleine kinderen - vier jaar en drie maanden - is achtergebleven en die geen idee heeft waar zijn vrouw is, of waarom ze zomaar weggegaan is. Ze zou toch nooit haar kinderen in de steek laten?
Lochlan, zo heet de man, ontdekt dat hij eigenlijk maar weinig weet van zijn vrouw. Hij was altijd aan het werk. Niets weet hij van wat ze de hele dag deed. Hij heeft geen idee hoe hij de kinderen moet verzorgen. En dan wil zijn baas ook nog dat hij komt werken!
Gelukkig komen de grootouders van Eloïse hem helpen, maar zij hebben nooit onder stoelen of banken gestoken dat ze hem geen goede echtgenoot vonden voor de kleindochter die zij opgevoed hebben, omdat hun eigen dochter dat niet kon.
Eloïse heeft alles achtergelaten: paspoort, geld, telefoon en auto. Is zij zelf weggegaan? Heeft ze hem verlaten? Of heeft iemand haar ontvoerd? Het enige teken dat er iets aan de hand moet zijn geweest is dat er geknoeid is met de babycams.

De titel is wel vreemd, want in het begin kent Eloïse haar naam helemaal nog niet. Dat schiet haar later pas weer te binnen. Het verhaal ontvouwt zich tergend langzaam. Om en om vormen de vrouw en de man het vertelperspectief. Daardoor weet de lezer wel meer, maar het blijkt toch nog een totale verrassing te zijn wat er aan de hand is. Je ziet het echt niet aankomen, terwijl er toch - met kennis achteraf - wel aanwijzingen zijn geweest. Ook komen er geheimen aan de dag, zowel uit het leven van Lochlan als van Eloïse. Dit huwelijk is niet zomaar weer geheeld. Een bijzondere psychologische thriller.

C.J Cooke (1978) heeft eerder de roman Dagboek van een beschermengel geschreven. Dit is haar thrillerdebuut.

ISBN 9789402700930 | Hardcover | 252 pagina's | Harper Collins | maart 2018
Vertaald uit het Engels door Ingrid Zweedijk

© Marjo, 24 mei 2018

Lees de reacties op het forum en/of reageer, klik HIER