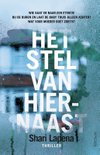 Het stel van hiernaast
Shari Lapena

Anne is er niet gerust op. Ze heeft spijt dat ze zich door haar man Marco over heeft laten halen naar het etentje bij de buren te gaan. Toen de oppas afzegde, had ze de afspraak moeten annuleren of Cora mee moeten nemen. Maar haar buurvrouw Cynthia wilde geen kinderen over de vloer. Daar was ze heel stellig in geweest. Het etentje was uitsluitend voor de vier volwassenen bedoeld.

De babyfoon staat aan en om beurten gaan Marco en Anne elk half uur bij de baby kijken. Er is niks aan de hand. Toch voelt Anne de ongerustheid toenemen. Een moeder laat haar zes maanden oude baby toch niet alleen thuis? Ze schaamt zich voor haar onbezonnenheid en tot overmaat van ramp heeft ze te veel gedronken. Cynthia blijft haar glas maar bijvullen. Denkt ze soms dat een beschonken Anne niet door zal hebben dat ze schaamteloos met Marco flirt? Marco flirt terug. Het is een rotavond. De vriendschap met Cynthia en haar man Graham is niet meer wat het geweest is.

Om 01:00 uur heeft Anne er genoeg van. Ze wil naar huis en wel nu. Marco doet moeilijk. Hij wil nog niet gaan en treuzelt. Hij heeft het immers uitstekend naar zijn zin. Wanneer Anne besluit dan maar alleen naar huis te gaan, gaat hij alsnog mee. Dan schrikt Anne. De voordeur staat op een kier. Anne weet zeker dat ze de deur achter zich heeft dichtgetrokken. Ze vliegt de trap op en stormt de kinderkamer in. Het ledikantje is leeg. Cora is weg. Anne gilt en geeft over.

Haar kindje is weg. Haar baby. Anne is volledig in paniek. Marco is in shock. De politie wordt gebeld en in een mum van tijd staat de straat vol politieauto's. Het huis en de tuin worden op sporen onderzocht. Iemand moet Cora ontvoerd hebben. Rechercheur Rasbach, de onderzoeksleider, straalt echter niet alleen ongerustheid uit. Anne heeft het niet door, ze trilt als een rietje en is volledig in zichzelf gekeerd. Marco heeft de achterdocht van de politieman echter meteen opgemerkt. Rechercheur Rasbach sluit overduidelijk niet uit dat Marco en Anne zelf bij de verdwijning van Cora betrokken zijn. Denkt hij soms dat ze hun eigen kind hebben gedood?

De uren kruipen voorbij. Cora is nog altijd weg. Er volgt een oproep op tv. Er wordt een beloning uitgeloofd. De ontvoerder van Cora zwijgt in alle talen. De achterdocht neemt toe. Zelfs Anne heeft het nu door. Ze is geschokt. Natuurlijk heeft ze haar kind niets aangedaan! En Marco, van wie ze ondanks zijn geflirt met Cynthia zielsveel houdt, zou zoiets ook nooit doen. Ze vertrouwt haar man volledig. Dan rijpt er een gruwelijke gedachte in haar hoofd. Kan ze zichzelf eigenlijk wel vertrouwen? Anne heeft een aantal ingrijpende gebeurtenissen uit het verleden verdrongen. Marco weet er zelfs niets van. Ze is immers volledig hersteld. Toch?

Wanneer je besluit Het stel van hiernaast te gaan lezen, doe je er goed aan je in een comfortabele stoel of een lekkere bank te nestelen. Je zult de door jou gekozen zitplaats namelijk pas weer verlaten wanneer je het boek uitgelezen hebt. Ik zat meteen in het verhaal en stoorde me net als Anne enorm aan Cynthia. Wat een vervelend mens! Waarom lijkt ze trouwens niet erg aangedaan door de ontvoering? De ontvoering moet gepland zijn maar bijna niemand wist dat Anne en Marco niet thuis zouden zijn. En dan was er normaal gesproken altijd nog een oppas. Hoe heeft dit toch kunnen gebeuren en waar is de kleine Cora nu? Zal ze nog in leven zijn? De vragen en de ongerustheid lieten me niet meer los.

Het stel van hiernaast is het thrillerdebuut van Shari Lapena. Het is intens, meeslepend en spannend tot de laatste bladzijde. De auteur weet de aandacht van de lezer meteen te trekken en laat de interesse geen moment verslappen. Het verhaal grijpt je bij de lurven. Wie heeft Cora ontvoerd of… is er nooit een ontvoerder geweest? Wat is er met baby Cora gebeurd? Zeg al je afspraken af en schuif alles op jouw takenlijstje een dagje op. Dit boek moet in één ruk uit!

ISBN 9789044630909 | paperback | 287 pagina's | Prometheus | juni 2016
Vertaald door Marja Borg
© Annemarie, 17 juli 2016
Lees de reacties op het forum en/of reageer, klik HIER