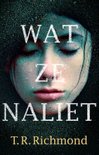 Wat ze naliet
T.R. Richmond

De dood van de vijfentwintigjarige Alice Salmon veroorzaakt een schokgolf onder familie, vrienden en bekenden. Wie verwacht er immers dat zo'n jonge vrouw onverwacht sterft? Alice was een bruisende persoonlijkheid. Ze zat vol plannen voor de toekomst en had een lieve vriend. Ook op haar werk ging het haar voor de wind. Alice zou het als journalist nog ver hebben geschopt.

Op zondag 5 februari werd haar lichaam gevonden. Het dreef in een troebele rivier. Er werd volop gespeculeerd over de doodsoorzaak. Was het soms een ongeluk? Was de dronken Alice van de brug gevallen? Of was het zelfmoord? Zag Alice ondanks haar vrolijke voorkomen het leven niet meer zitten? En dan was er nog een ander vermoeden. Boze tongen fluisterden dat Alice misschien wel vermoord was. Lange tijd is Alice het gesprek van de dag.
De dood van Alice laat ook professor Jeremy Cooke niet los. Hij kende Alice beter dan hij aan de buitenwereld laat blijken. Bovendien is haar moeder Elizabeth een oude vlam van hem. Alice leek veel op haar moeder en dat liet professor Cooke niet onberoerd. Het leidde zelfs tot een incident waar hij liever niet over praat. Gelukkig heeft Alice nooit met derden over het voorval gesproken. Het had zijn carrière kunnen verwoesten.

Jeremy Cooke weet dat hij niet lang meer te leven heeft. Over drie tot vijf jaar zal hij sterven aan de gevolgen van prostaatkanker. De dood wacht hem aan de horizon op en Cooke heeft het gevoel dat hij nog een laatste daad moet verrichten. Hij besluit een boek over Alice te schrijven. Hij zal de wereld laten weten wie Alice Salmon werkelijk was. Aan de hand van alle documenten over Alice die hij maar kan vinden, zal hij haar leven reconstrueren. Haar geheimen ontrafelen.
Niet iedereen is blij met het onderzoek van professor Cooke. Elizabeth smeekt hem haar met rust te laten. Ook Megan, de beste vriendin van Alice, heeft het al snel helemaal met de professor gehad. Ze vindt hem maar een griezel. Luke, het vriendje van Alice, dweept daarentegen met de man. Professor Cooke heeft op iedereen zo zijn eigen uitwerking. Het onderzoek naar het leven van Alice vordert ondertussen gestaag terwijl de politie nog altijd de precieze doodsoorzaak niet heeft vastgesteld. Zal de professor het politieonderzoek uiteindelijk voorbijsnellen?

Wat ze naliet is het debuut van T.R. Richmond. Hij is net als het personage Alice werkzaam als journalist. De auteur heeft voor een bijzondere verhaalsamenstelling gekozen. Het boek bestaat uit losse fragmenten. Er staan opstellen, interviews, sms-berichten, chatberichten, brieven, e-mails en dagboeknotities in het boek. Samen vormen ze het levensverhaal van Alice.

De ongewone verhaalindeling is verfrissend en bijzonder. Ook is het helemaal van nu. We communiceren tegenwoordig immers op tig verschillende manieren met elkaar. Toch lezen alle losse fragmenten niet altijd even soepel, vooral ook omdat ze niet chronologisch zijn waardoor het verhaal van de hak op de tak lijkt te springen. De brieven die professor Jeremy Cooke aan zijn penvriend Larry schrijft, nemen de meeste ruimte in beslag. Cooke is een naar, zelfingenomen mannetje. Ik kreeg een steeds grotere hekel aan hem. Vreemd genoeg leeft penvriend Larry niet meer. Cooke heeft echter meer dan vijftig jaar brieven aan hem geschreven. Het is een ingebakken gewoonte geworden zijn gevoelens met Larry te delen. Of hij ooit interesse in Larry zelf heeft gehad, is nog maar de vraag. Professor Cooke schrijft en praat het liefst over zichzelf.

Wat ze naliet is een indrukwekkend en knap geschreven debuut. Ik vermoed dat de auteur tijdens het schrijven door talrijke briefjes met aantekeningen werd omringd. Het moet geen makkelijk opgave zijn geweest om de regie over het verhaal te behouden. Aanvankelijk moest ik erg aan de verhaalindeling wennen maar uiteindelijk werd ik toch nieuwsgierig. Onder welke omstandigheden is Alice Salmon gestorven? Welke geheimen hield ze voor de buitenwereld verborgen? Bloedstollend is het verhaal niet maar de waarheid is zeker verrassend.

ISBN 9789041425928 | paperback | 374 pagina's| Ambo|Anthos | oktober 2015
Vertaald door Roelof Posthuma
© Annemarie, 17 november 2015
Lees de reacties op het forum en/of reageer, klik HIER