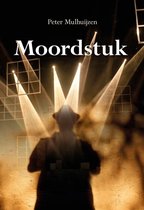 Moordstuk
Peter Mulhuijzen

Ravensville, Far North Queensland, Australië, is een stadje waar nooit iets gebeurt. Behalve dan het jaarlijkse festival. Dat zal ook dit jaar geopend worden met een toneelstuk van de spelersgroep RATS, die druk aan het repeteren zijn in de Festival Hall.
Onder leiding van regisseur Butt doen de mannen en vrouwen hun best een geloofwaardig stuk op het toneel te zetten. Het gaat over een moord.

'Er gebeurt meer in dit whodunit-stuk dan alleen moord', zei Felicity tegen niemand in het bijzonder, terwijl ze met een diva-achtig gebaar haar haren fatsoeneerde.
'Waar heb je het over?' wilde Arnie weten.
'Nou…', antwoordde ze lijzig, 'het is toch overspel waar het eigenlijk over gaat?'

Maar als er dan tijdens de première ook echt een moord gepleegd wordt, zijn de gemoederen danig verhit. Het was al wel duidelijk dat het niet helemaal pais en vree was tussen de spelers onderling en ook niet ten aanzien van de regisseur, maar moord is toch weer van een ander kaliber!
De plaatselijke detective-sergeant Mortimer weet meteen wie de dader is, en niets brengt hem aan het twijfelen. Maar er komt versterking vanuit de Homicide Branch uit Brisbane, en detective-inspector Blake is het niet met hem eens.
Ook Mayn Powell denkt niet dat degene die het moordwapen vasthield ook de dader is. Mayn is een van de spelers van RATS, maar vanwege zijn beroep, psychotherapeut, is hij erg geïnteresseerd, en omdat hij denkt dat Mortimer het helemaal fout heeft, doet hij zijn eigen onderzoek.

De moord kan een ongeluk geweest zijn. Er is sprake van een revolver die verwisseld werd met de dummy die in het toneelstuk gebruikt werd. Wie kan dat dan gedaan hebben? Was het misschien per ongeluk? En was het slachtoffer dan wel doelwit?

Er blijken overeenkomsten te zijn tussen het toneelspel en de werkelijkheid. Er is inderdaad ook sprake van overspel, van jaloezie. Er zijn geheimen, soms uit een ver verleden. Wat is de betekenis van die gekleurde jongen die af en toe opduikt?
Ieder personage heeft eigen ideeën over hoe en wat, en Powell ontvouwt vanuit zijn beroep persoonlijkheidstheorieën, maar of dit het eenvoudiger maakt? Ook is er een rol voor de mythologie, bijzonder in een verhaal als dit.

Lijkt het aanvankelijk een simpel verhaal, dan vergis je je. Het is een verrassende plot, vrij ingewikkeld ook, al komt dat helemaal goed. In het begin is het lastig om de vele personages uit elkaar te houden, ook omdat ze bij hun echte naam maar ook hun toneelnaam genoemd worden.
Hier en daar worden authentieke uitdrukkingen uit Australië gebruikt. Voor in het boek staat een lijst met die termen.

Peter Mulhuijzen (1941) is klinisch- en ontwikkelingspsycholoog en sinds 1980 actief als managementcounselor. Eerder schreef hij Eenzijn of Eenzaam? Onderweg naar Ewa en Schitterend Imago.

ISBN 9789463654630 | paperback| 272 pagina's | Uitgeverij Elikser| september 2022
© Marjo, 30 oktober 2022

Lees de reacties op het forum, klik HIER