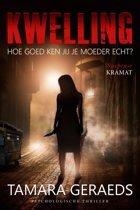 Kwelling
Hoe goed ken jij je moeder echt?
Tamara Geraeds

De 28-jarige Christina woont nog steeds bij haar ouders. Ze zou graag op zichzelf willen, maar blijft om een misschien wel misplaatst schuldgevoel. Vijf jaar eerder is namelijk haar jongere broertje Colin verdwenen. Sindsdien is het gezin ontwricht: haar vader vlucht in zijn werk, het organiseren van feesten en evenementen, en haar moeder heeft een akelige migraine ontwikkeld.

Christina is als profielanalyticus gaan werken bij IPOL, de Dienst Internationale Politiesamenwerking. Maar echt succesvol is ze niet, het werk vindt ze eigenlijk saai, ook al is ze vastbesloten om informatie te vinden die een doorbraak kan vormen. Colin is namelijk niet het enige kind dat verdwenen is.

Het verhaal begint met een krantenartikel over een gruwelijke vondst in een geheime tunnel bij een huis in Rotterdam. De familie Kaakmans krijgt het bericht dat Colin een van de lijken was, waardoor alle ellende opnieuw opgerakeld wordt. Ellen, de moeder, krijgt opnieuw heftige migraineaanvallen, en Christina kan zich niet meer concentreren, heeft last van stress. Ze zoekt haar heil in drugs, en heeft daar steeds meer van nodig.
Vergist ze zich nu, of klopt het dat haar moeder zich vreemd gedraagt? Als Christina in haar moeders tas een vingerkootje en een bebloed mes vindt, probeert ze haar moeder meer in de gaten te houden. Daarbij doet ze niet zozeer vreemde, als wel hele akelige ontdekkingen.
Ze vraagt zich af of dat verband houdt met de berichten in de krant.

Het verhaal wordt door Christina als ik-verteller, en door Ellen in de derde persoon verteld, waarbij de lezer zeer goed op moet letten in welke tijd het hoofdstuk speelt. Terwijl Christina vooral vooruit in de tijd gaat, zijn de hoofdstukken die Ellen vertelt juist terugblikken, die steeds verder het verleden induiken, maar ook weer niet altijd, dus je moet de koppen boven de hoofdstukken goed lezen. Daar staan overigens soms ook spreuken als 'berouw snijdt dieper dan het scherpste zwaard' of 'Monsters slapen niet in je bed, ze slapen in je hoofd' (achterin vindt je verantwoording voor deze gezegden)

Waar de gemiddelde lezer waarschijnlijk ook onzeker over is, is de vraag in hoeverre alles werkelijk gebeurt. Christina neemt steeds meer en zwaardere drugs, en verliest haar grip op het leven. Ze heeft hallucinaties. Maar die lijkt Ellen ook te hebben, tenminste, dat denkt Christina dan weer. Die vraagt zich bovendien af of er een moordenaarsgen bestaat, en maakt zich daar erg ongerust over haar moeder.
Wat gebeurt er nu echt? Zien moeder en dochter spoken, of gebeurt het echt?

'Bibberend lig ik in bed. Ik lig hier al zeker een half uur, maar van slapen kan geen sprake zijn. Nog nooit in mijn leven heb ik me zo radeloos gevoeld. Mijn hoofd wordt overspoeld door verdriet, woede, machteloosheid, onzekerheid, twijfel, verlangen. Nog even en ik word gillend gek.'

Door die onzekerheid word je des te nieuwsgieriger naar de ontknoping van dit spannende verhaal.
De eenvoudige en duidelijke manier van schrijven is in dit geval erg prettig, je hebt al genoeg om in de gaten te houden als je het verhaal vlot wilt lezen. Dat lukt overigens niet altijd: al lezend wil je nogal eens terugbladeren om alles goed op een rijtje te hebben.

Een psychologische thriller die verrast en fascineert!

Tamara Geraeds (Arnemuiden,1981) werkt naast auteur als freelance docent Engels, Nederlands en creatief schrijven, en als redacteur voor verschillende uitgeverijen. In 2012 verscheen haar debuut Nergens bij Uitgeverij Kluitman Alkmaar en inmiddels zijn er al 7 boeken van haar hand verschenen.

ISBN 9789462420984 | paperback | 263 pagina's | Uitgeverij Kramat | maart 2019
© Marjo, 11 juni 2019

Lees de reacties op het forum en/of reageer, klik HIER